New Jersey Devils: How Much Will It Take To Re-Sign Michael Grabner?
The New Jersey Devils made yet another shocking trade late Thursday night, acquiring Michael Grabner from the New York Rangers. Since he is an expiring contract, what would it cost to sign him long term?
New Jersey Devils GM Ray Shero is not Lou Lamoriello. That much became clear on Thursday night. The Devils made a trade with the New York Rangers. It never happened in the Lou regime, and hasn't happened since the days of the Colorado Rockies.
Now that we've gotten that out of the way, let's talk contract.
The Devils sent a second-round pick and Yegor Rykov in exchange for Michael Grabner. The only issue I have with this trade is the fact that Grabner is a free agent at the end of the season. Do the Devils feel like they could re-sign him right away, or will they have to wait until the offseason like everyone else?
That's why Shero needs to sign Grabner in order for this trade to be a win for the Devils.
So what will Grabner cost the Devils? I've been looking at contracts over the past few years, and they are all over the place. There are the contracts for players with similar production as Grabner, like Andrew Ladd's contract with the New York Islanders and Frans Nielsen with the Detroit Islanders. However, both those contracts look terrible now. Ladd got seven years at $5.5 million and Nielsen got six years and $5.25 million per.
I think teams have learned from those contracts, and Ray won't want to spend like that on Grabner. At least, not that kind of term.
On the other hand, Grabner is showing no signs of slowing down, despite being 30. He's had an odd career, starting with 34 goals in his first full season with the New York Islanders back in 2010-11. However, he fell off every season after that all the way until he signed with the Rangers two seasons ago.
Grabner is coming off a contract that paid him $1.65 million per season, but he's poised for a huge payday. No, were not talking superstar money here, but he's definitely getting a raise.
I think the negotiations start with $4 million from the Devils and $6 million from Grabner's side. With the Devils working with cap space, I feel like they can easily come off that number, but don't see them going to $6 million.
The final contract could look somewhere in the $4.5-$5.2 million dollar range. The term is what is in question. There's no way Shero gives Grabner six or seven years. I could see a four-year, $20 million deal to just make it even. That doesn't kill the Devils cap for next year, and leave plenty of room to sign Taylor Hall when the time comes. At the same time, it's more money than Grabner's ever seen. I think everyone can be happy with that deal.
On a side note, this is the player the Devils just acquired.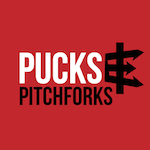 Want your voice heard? Join the Pucks And Pitchforks team!
Write for us!