New Jersey Devils: Yegor Yakovlev May Be The Answer On Defense
The New Jersey Devils did nothing to upgrade the defense in free agency. Maybe that's because the team believes they already signed the guy when they added Yegor Yakovlev.
All offseason, New Jersey Devils fans wanted the team to make major upgrades to the blue line. Fans were calling for the team to send all of the assets to obtain Erik Karlsson. Some wanted to surpass the price the Carolina Hurricanes paid for Calvin De Haan. Others just wanted them to sign a defenseman that wasn't bound for the AHL (sorry Eric Gryba). What if the Devils already signed the answer to the Devils defensive problems?
The Devils signed Yegor Yakovlev back in April. It's a signing that's mostly forgotten because it happened when games were still being played. Sure, the Devils weren't playing games, but we had hockey to distract us. This signing may not be the big splash we wanted, but it could be the signing we needed.
Yakovlev is an Olympic gold medalist. He played his last three seasons with SKA St. Petersburg, the powerhouse of the KHL. He was playing with NHL level talent like Pavel Datsyuk, Ilya Kovalchuk, and Sergey Kalinin. That kind of experience is what you want from your players when playing overseas.
Yakovlev is exactly what the Devils need right now. They don't need an offensive defenseman, because they already have Will Butcher and Damon Severson. Plus, Ty Smith is not too far away from making the team. They need a stay-at-home defenseman who can also clear the zone. From the little we've seen of Yakovlev on this side of the ocean, he can do that.
Some may have certain feelings about Russian hockey players, but the fact that this kid was on the best team in his league at age 26 and still chose to go to the NHL shows something. He's likely in it for the long haul.
Yakovlev must have been given some kind of notion that he'd at least have a shot to make the big league roster off the bat. He was given the normal two-way, entry-level deal that would only pay him $70,000 to play in the AHL. It seems unlikely he would make this move if he was going to make as much as a typical orthodontist.
He's on a one-year deal. That means he's going to get his shot pretty quickly. The Devils want to see what he's got, and Yakovlev is eager to prove he's an NHL-caliber defenseman. Will he become a top-line guy off the bat? Probably not, but with the right coaching he could solidify a defense that sorely needs it.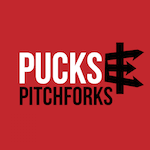 Apply to Pucks and Pitchforks.
Start your application process by filling out the fields below