New Jersey Devils: Nico Hischier Point Prediction For 2018-19 Season
Over the next few weeks, Pucks and Pitchforks will release their points predictions for every starting player on the New Jersey Devils main roster. Today, we predict Nico Hischier's second year after a stellar rookie season.
Nico Hischier was everything we could have hoped for and more for the New Jersey Devils last season. He came into his rookie season with decent expectations as the number-one overall pick. Even with those expectations, Hischier went above and beyond.
Sometimes a rookie exceeds thanks to a situation beyond his control. When Travis Zajac went down prior to the season with a major injury, that opened up the first-line center position. Many thought it would eventually go to Pavel Zacha. He was young and had the NHL experience. Most thought Adam Henrique would take the job to start the season. He did center a first-line to the Stanley Cup.
The decision eventually went right to Hischier, and he never looked back. Even when Zajac went back, there was no question that Hischier was going to stay the number one center.
Hischier was playing a good center, but struggled to score early in the season. It was more luck than anything. The bounces just didn't go his way. He finally started to get his scoring stroke in February, where he scored five goals. Then, in March, he scored another five goals. He ended the season with 20 goals and 32 assists. Not bad for his first year.
This season, many Devils fans are expecting a major jump. Many players make the jump from year one to year two, but it's not a guarantee. So, what should we expect from Hischier this season?
Goals: 31
Assists 44
Points: 75
So, as you can see, I am expecting a major jump from Hischier next season. He's going into his second year, he finally found his scoring stroke, and I would not take the chemistry of any other combo than that shared by Hischier and Taylor Hall. The reigning MVP will trust his center to take on more of the scoring burden. Hischier isn't the type of player that will carry the franchise by himself, but with Hall by his side, they can make one of the best one-two punches in the league.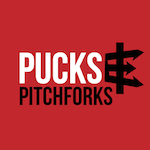 Want your voice heard? Join the Pucks And Pitchforks team!
Write for us!