New Jersey Devils: Pavel Zacha Point Prediction For 2018-19 Season
Over the next few weeks, Pucks and Pitchforks will release their points predictions for every starting player on the New Jersey Devils main roster. Today, we predict Pavel Zacha and his very important third season.
New Jersey Devils fans thought that after a lackluster rookie campaign from Pavel Zacha, great things were coming from the former sixth-overall pick. He was used to the grind of the NHL game, and he knew what the team was expecting of him.
That's not exactly what happened. He scored eight goals, which matched his number from his rookie season. The fact that he couldn't score one more goal than the season prior was disconcerting. He hit 17 assists, which again, was just one more than the season prior. That's not great. This is really bad when he was on a much better team that actually made the playoffs.
Zacha was so bad last season, that there were times head coach John Hynes sat him for no reason other than he thought there were players better than him to put in the lineup. This is a player that the Devils had the highest hopes for. Before Nico Hischier came around, Zacha was supposed to be the future number-one center on this Devils team.
Now, we've come to this season. This is season number three for Zacha. Honestly, last season did him no favors. He never had consistent linemates thanks to injuries to Kyle Palmieri, Marcus Johansson and lackluster play from Drew Stafford. Hynes moved Miles Wood off his line, which seemed odd since they had really nice chemistry together.
It looks like he will start the season alongside Johansson and Jesper Bratt. If Bratt is able to find the magic that led to his early season success, they can have a formidable line. Zacha could really excel with some consistency in his career.
So, what should we expect from Zacha this season?
Goals: 15
Assists: 25
Points: 40
If we got this kind of production from Zacha, I think we'd all be satisfied. It is unrealistic to believe Zacha will become a 20-goal scorer overnight. It's safe to say he can do better than the last two years if Johansson can at least play more than half the season. I think 40 points is fair for a second-line center on a good team.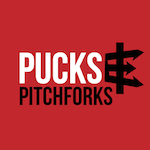 Want your voice heard? Join the Pucks And Pitchforks team!
Write for us!