New Jersey Devils Look Great in Preseason Tilt with Winnipeg Jets
The New Jersey Devils had one last game in North America in preseason play before flying overseas to play in Switzerland. It went well for them. They looked like the Devils that we hope to see throughout the regular season. It reminds you a bit of what was seen last season at different points.
The Devils beat the Winnipeg Jets 5-3 on the road. Scores mean nothing in preseason, but Winnipeg had an NHL heavy lineup as did the Devils. The Jets are considered by many to be one of the three best teams in the NHL.
Marcus Johansson and Jesper Bratt looked very good and showed a bit of their skill in the game against Winnipeg. Those two left a lot to be desired in the second half of last season. Bratt hit the rookie wall hard after Christmas last season, and Johansson was injured for most of the year. Each player living up to their talent would go a long way in the Devils being a playoff contender.
Another Devils game and another story about how good Taylor Hall makes the Devil's top line. He had himself another two points as did Kyle Palmieri. They should be a threat to score every single game. They are fast, skilled, and all bring something different to the table. Hall is a dynamic superstar offensive minded power forward. Nico Hischier is a two way center that does everything needed over the 200 foot sheet of ice, and Kyle Palmieri can score goals with the best of them. It can't be said enough how good this line can be.
The line of Miles Wood–Travis Zajac–John Quenneville seems to be developing some serious chemistry as the Devils 3rd line. Quenneville has officially made the team, right? No. But he probably will. He seems to have earned it. He has looked skilled, strong, and physical in the preseason. This line has been very good when together. They can score and we all know how good Zajac is defensively. Every member of this group is capable of scoring anywhere from 10-20 goals and maybe even more.
One last takeaway from the game is the play of Devil's defenseman Damon Severson. He was second on the team in ice time with 20:35. He pumped out 4 shots on goal from the back end, putting one in, and he made a spectacular save when Keith Kinkaid was caught out of the net. He still has a lot to prove, but it seemed like he was playing the game we know he can tonight. Damon Severson taking the next step could be the biggest thing the Devil's need to see this season. He could be pivotal to the team in the long run if he pans out.
It is important to finish the preseason strong and play their game the way they did tonight and carry it into the regular season. There are going to be no easy games in the metropolitan division or in the rest of the league for that matter.
New Jersey sets sails for Bern, Switzerland. They play one last exhibition game vs Swiss team SC Bern on Monday October 1st, 2018.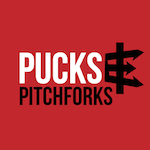 Want your voice heard? Join the Pucks And Pitchforks team!
Write for us!