New Jersey Devils Claim Jean-Sebastien Dea Off Waivers
The New Jersey Devils made the confusing move on Friday afternoon when they claimed former Pittsburgh Penguins forward Jean-Sebastien Dea off waivers. What does this mean for the rest of the Devils roster?
The New Jersey Devils added a new body to their roster about as late as possible, when they claimed Jean-Sebastien Dea off waivers on Friday. Dea spent four seasons in the AHL playing for the Wilkes-Barre/Scranton Penguins. He worked his butt off this preseason to try to make the NHL team, but it wasn't enough. He was the final forward cut on the Pittsburgh Penguins roster.
The 24-year-old had his best season last year, scoring 50 points for the AHL team. He never made the NHL squad, but that's because the Penguins stayed quite healthy last season. He was a great complimentary forward, and he was pushing very hard to make the big leagues this year. Obviously, it wasn't enough for the Penguins, but the Devils thought differently.
Dea committed to working on his all-around game. He really focused on the penalty kill, something we know the Devils value in an extra forward. He's really focused on keeping pucks out of the net as much as he tried to put them into the opposing net.
This move reminds me a lot of the Brian Gibbons move last season. Most Devils fans expected John Quenneville or Nick Lappin to make the opening-night roster, but the Devils opted for Gibbons instead, and it was the perfect move. Gibbons actually led the team in goals for the first few months, until Taylor Hall took over that distinction for good.
Speaking of Quenneville, what does this mean for him and the other forwards on the roster bubble?
Well, it makes it much harder for the Devils to keep them up this season. Right now, Quenneville, Brett Seney and Kevin Rooney are the last forwards still fighting for a spot on the opening-night roster. Also, Drew Stafford remains on the team, but he's still playing on his PTO.
Well, as you know, when a player gets claimed off waivers he must stay on the NHL roster. If the Devils attempt to send him down to Binghamton, he must once again go through waivers. We saw this a few years ago when the Devils tried to bring back Reid Boucher, only to lose him once again to the Vancouver Canucks. A team will snag a player if they think another team finds him valuable.
Dea is a very good pickup in my opinion. He provides a lot of what the Devils are looking for as a two-way forward, and he's proven that he can excel when given the chance on the offensive side. He's played two games this preseason, and won a ridiculous 68 percent of his faceoffs.
He only has one assist this preseason, but it was just two games.
The Devils could still keep Dea on the roster as their extra forward over Drew Stafford. We all know how Ray Shero loves to take players from his former team, but unlike most this is not a player he drafted. In fact, Dea went undrafted and made the team after signing.
I still see room for Quenneville on this team. His chemistry with Travis Zajac and Miles Wood isn't something you see very often. Quenneville has two points in four games, and will likely get the longest look in the Devils game against S.C. Bern in Switzerland. I see Seney and Rooney as last-minute cuts.
Dea may look like any old depth forward not to get excited about, but this move could pay dividends. And if it doesn't, who cares? It was literally free, and the only risk it comes with is giving him playing time over a younger forward. I understand that is a risk, but if this guy can be the Gibbons for this year's team it would be well worth it.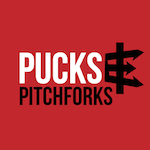 Want your voice heard? Join the Pucks And Pitchforks team!
Write for us!