New Jersey Devils: Cory Schneider Officially Missing Opening Night
The New Jersey Devils announced that starting goaltender Cory Schneider will not be ready to play by opening night in Sweden. It's an expected announcement, and likely the right decision.
It's official, the New Jersey Devils will start the season with Keith Kinkaid as their starting goalie. Head coach John Hynes confirmed that Cory Schneider will not be ready to play by opening night.
Schneider has not played in actual game action since the Devils lost in game five of the first round of the Stanley Cup Playoffs. Schneider was stellar in four games against the Tampa Bay Lightning, but it was clear he had been dealing with an injury that forced him to play down from his current status. Schneider's hip injury likely hurt his side-to-side ability, and forced him to produce the worst numbers of his career.
It's imperative that Schneider gets fully healthy before returning to the lineup. The Devils can't afford for their number one to go into the season any less than 100 percent. If he does, he will likely stay less than 100 percent the entire season.
Schneider still has four year left on his current contract paying him $6 million per season. This contract is going to force Schneider into the starting position for those four years, so the Devils need to protect their very expensive asset.
While in years past Hynes has been prone to play Schneider for weeks straight, hopefully this injury changes that. Hynes needs to be careful if he is going to keep Schneider healthy all season long.
The Devils have not given a timeline for Schneider to return. He's been playing more during practice over the last few weeks, and shows he can at least get on the ice. He's likely close, so the Devils have an easier time erring on the side of caution. Schneider will be back on the ice soon, just not in Europe.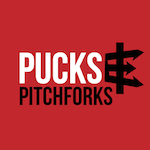 Want your voice heard? Join the Pucks And Pitchforks team!
Write for us!