New Jersey Devils: Pavel Zacha Looking To Solidify Role
The 2016 NHL Draft was one of the most hyped entry drafts in league history. At the top was "The Next One" Connor McDavid. Immediately, he was one of, if not the best players in the NHL. Then came Jack Eichel, who is a true superstar in his own right. Then followed Dylan Strome, Mitch Marner, and Noah Hanifin, who all are very good NHL players. Every team that drafted in the top five got something out of that year's draft.
Then there was the New Jersey Devils sitting there with the 6th overall pick. They were in desperate need of offense, as they were coming off another year of finishing in the bottom five teams in scoring. They had yet to trade Adam Larson for Taylor Hall, so scoring seemed to be the big need at the time. The Devils pulled the trigger on Czech center Pavel Zacha. He made his NHL debut in the Devils last game of the 2015-16 campaign, a game in which he recorded two assists.
In his career so far, he has 16 goals and 35 assists for 51 points in 141 games. Those are underwhelming numbers for a 6th overall pick, but he has had some trouble with consistency. He has shown flashes of brilliance in his young career. Devils fans should be cautiously hopeful that he can be a depth contributor on a team that is pretty top heavy at the forward position.
So what should everyone realistically expect from Pavel Zacha going forward?
It's a tough question.. He is definitely an NHL player, he has proven that so far. What the Devils are still trying to figure out is where he belongs in a group of four centers.
Nico Hischier will likely be the teams top line center for the next decade and a half when healthy. Pavel Zacha definitely has the ceiling of a second line center, if he can sit in that role and put up 50-60 points that would be amazing for the Devils. At worst, he could be a 30-40 point getting third line center, although it would be ideal to have Travis Zajac centered line in that spot. The Devils are looking like they hope for Zacha to work out as the second-line center.
When Zacha is on the ice it is not like he's a liability for a goal against to be his fault, so he has that going for him. The Devils just seem to believe he is capable of providing more offense for the team. As of right now when all are healthy, he is slated to play on that second line with Marcus Johansson and one of Jesper Bratt or Kyle Palmieri (the other will be on the top line with Hall and Hischier). This line at its best could be very good and produce a good amount of offense to support the top line.
Devils fans should be patient with Zacha for a little while longer, and see what he brings to a young fast team with some expectations in 201-19. He could end up being the late bloomer that just explodes out of nowhere.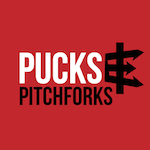 Want your voice heard? Join the Pucks And Pitchforks team!
Write for us!