New Jersey Devils Should Trade For Ryan Callahan Now
The Tampa Bay Lightning announced they will be placing Ryan Callahan on long term injured reserve. The New Jersey Devils should take that off their hands in exchange for an asset.
The Tampa Bay Lightning announced that winger Ryan Callahan's career is over. He has a degenerative back disease that has him putting up the skates for good. The plan going forward is to place him on long-term injured reserve. This seems like good news for the Tampa Bay Lightning, but it's not the way it seems.
LTIR is not found money to spend in the offseason. It's basically permission to spend past the cap to get a player of equal or lesser value. This may be random, but this San Jose Sharks blog from SB Nation does a really good job breaking it down.
So, basically the Lightning can spend on a player, but it really hurts them when trying to stay under the cap and when looking to make moves at midseason to bolster the roster. It impacts waivers when the Lightning want to call up players. It's a mess, really.
You know what would make this easier? Trading away Ryan Callahan. You know who can afford his deal? The New Jersey Devils can.
He's getting paid $5.8 million this season, which will be the final year of his contract. The Devils will have north of $30 million in cap space this year. The Nico Hischier, Taylor Hall, Jesper Bratt and Mackenzie Blackwood extensions won't be needed until next offseason, so his contract will be off the books by then. There is very little chance the Devils spend $25 million this offseason. We can see them spending $15-20 million, but not enough to put them near the cap.
Callahan would bring some extra draft pick assets in a trade. It would look something like the Marc Savard trade in 2016. There, the Devils took Savard's cap hit from the Florida Panthers in exchange for a 2nd-round pick. They sent the Panthers Graham Black and Paul Thompson, both of which didn't amount to much.
The Devils ended up using that pick, and the 3rd-round pick they got after Lou Lamoriello went to the Toronto Maples Leafs, to trade for Marcus Johansson.
The Devils could pull off a similar deal, especially if they plan to turn the pick around for a bigger asset like Johansson. The Devils could make this trade overnight, then trade the pick at the NHL Draft Friday night.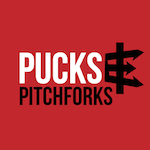 Want your voice heard? Join the Pucks And Pitchforks team!
Write for us!
Callahan could get the Devils a 3rd-round pick this season, or if the Devils are willing to wait they could get a 2nd-round pick in 2020. Either way, it feels like a win-win for both teams.