New Jersey Devils Finally Select Jack Hughes In NHL Draft
It has finally happened! Jack Hughes is a New Jersey Devil! Now it is about getting to work and putting all this talent together.
The New Jersey Devils are so proud to welcome, from the United States National Development Program, Jack Hughes. This is the moment we have been waiting for since the draft lottery and it is finally here. Jack Hughes is a New Jersey Devil!
This is so great for so many reasons. The Devils are adding a highly skilled and offensive-minded center that has the vision, skating, and creativity to make every single player around him look better. He is the type of guy that will elevate the play of his wingers and make other lines better based on matchups.
He will be joining former Devils first-overall pick Nico Hischier as the new 1-2 punch that you need to win Stanley Cups. You see duos like Nicklas Backstrom/Evgeny Kuznetsov in Washington, Patrice Bergeron/David Krejci in Boston, or Sidney Crosby/Evgeni Malkin in Pittsburgh as tandems that have won the Stanley Cup.
It is right there as the biggest need in a contending team and the Devils believe that now they have it. This is a major piece added to the franchise and every person from upper management to the players to the fans should be extremely excited.
This is how championships are built. Most cores that lead their teams to the top of the NHL mountain are all drafted and developed by their teams and not bought in free agency. The Devils have gone through a slow and grueling process in recent years, but we saw in 2017-18 what can happen when you play well. Now, they add another elite piece to this mix and the future is bright.
So what is Jack Hughes as a player? His floor is Clayton Keller, who led an NHL team in scoring in both of his NHL seasons. Not bad for a floor. If he reaches his mid potential you can say he would produce like Kuznetsov. An elite 80-90 point scoring center. If he reaches his full potential, we're talking Patrick Kane. Kane is a former scoring champion, Hart Trophy winner, and multiple time Stanley Cup Champion. None of these are laughable comparisons which is so exciting.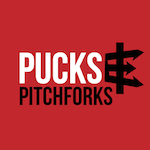 Want your voice heard? Join the Pucks And Pitchforks team!
Write for us!
Let's be honest here. They hope that this guy reaches his potential offensively and challenges all of Patrik Elias' Devils records. This is a lot to ask, but Hughes is capable based on everything we have seen in his junior career. He has had scouts calling him a generational talent or close to one for over a year now. This guy is the real deal.
He is a bit on the smaller side, but guess what? That doesn't matter as much in the NHL as it once did. Do you know who else is undersized? Kane. Oh yeah, and that Sidney Crosby guy too. Let's not forget Johnny Gaudreau. All of them had 99 points or more. Hughes is going to get stronger and more mature and that is going to be bad news for the rest of the National Hockey League. Today is a day we won't soon forget.