How Should New Jersey Devils Market Jack Hughes?
The New Jersey Devils have another number-one draft pick and this time it's an all-American, hockey dream. The name is Jack Hughes.
His look is clean, with a real Abercrombie and Fitch kind of way about it. His personality comes off as both reserved and confident, a combination that bodes well for a future leader. His game is pure hockey with speed, control, and vision that doesn't come around very often.
With all that said about the number-one pick, how should the New Jersey Devils market Jack Hughes? The answer to that is simple. The Devils need to take Jack Hughes' American roots and turn him into the face of hockey in the United States.
The American-born talent has never been greater than what it is right now, and that is only going to grow after this draft. A record number of U.S. born players are projected to go in the 1st round Friday. Even with an influx of American born talent, no one has the skill set and the total package that Jack Hughes possesses.
Let's say, for instance, Hughes is an immediate success for New Jersey in his rookie year, by the end of it he'll only be 19 years old. In the shadow of the biggest market in the country (New York), Hughes has the opportunity to take not only the league, but all of sports by storm with all he brings.
He could have a hat trick one night and host Saturday Night Live the next. Is that too much? I may be over thinking it with that one, but the potential is there.
He has all the traits, and let's face it folks, hockey is starving for an American-born star to take the league and make it their own. Auston Matthews is the most skilled American presently, but he plays for a Canadian team and doesn't have the look. You can make an argument for Jack Eichel, but he's in a bad market. Johnny Gaudreau? Another Canadian team. Joe Pavelski? The West Coast doesn't get as much attention. There are so many things working in Jack Hughes' favor to become way bigger than any of us are thinking he could become. We may not be ready for what he could be when it's all said and done.
New Jersey as a market has never been doing the NHL any favors. It's true. However, the Devils have never had that face (that wasn't a goalie) to bring new eyes upon them.
The addition and maturation of Hughes over time in the Northeast could generate new buzz around this organization. With the second-overall pick playing across the Hudson River, imagine the electricity in Madison Square Garden when Hughes and Kakko face off multiple times against one another. That one versus two dynamic is only going to grow Hughes' brand.
While he will grow as a player and as a leader over time, Jack Hughes has all the opportunities to explode as hockey's next biggest name and the first megastar to be American born. We are in the very early stages of the Hughes era with many intangibles yet to be measured, but the possibilities are truly unlike any we have seen in some time, with all the stars aligning for what could be a generational superstar. Let's see Hughes generate interest in hockey the likes of which this country hasn't seen since The Miracle on Ice. It's all there for him he just has to take it for himself.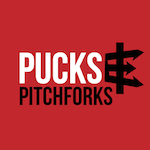 Want your voice heard? Join the Pucks And Pitchforks team!
Write for us!
Jack Hughes: Make America Hockey Again.