New Jersey Devils Draft Profile: Daniil Misyul
The New Jersey Devils took another defenseman with Russian ties when they chose Daniil Misyul with the 70th overall pick in the 3rd round of the NHL Draft. He's a defenseman that fits the usual mold of today's NHL.
The New Jersey Devils went into the NHL Draft with a plan. It was clear that Ray Shero wanted to take Jack Hughes, then focus on making his defensive prospect pool much, much better. It's pretty clear he did that, even if he took some chances.
Daniil Misyul is aggressive, especially when handling the puck. He can skate and pass very well for a young player in the Russian hockey league the KHL. He grew immensely this season, even getting time in the playoffs for Lokomotiv Yaroslavl.
Nothing pops out immediately about Misyul when looking at his stats, except of course his height. He's 6'3, which would make him tied for the tallest defenseman on the Devils right now. In fact, only goalie Mackenzie Blackwood is taller than him on the entire team. The Devils could really use some size on the back end. Obviously, players need to be more than tall (unless the team is Vancouver and the player is Tyler Myers), but Misyul has some interesting traits.
He relies on his speed and agility often. Misyul knows he can react to certain plays, and uses that to his advantage. He's willing to take chances on the ice, and more times than not they work out.
His aggressiveness is something that will translate well to the NHL. Those are the types of plays that stick out in our minds. Jumping passing lanes to start a rush and catching up with the pursuing offensive player to stop big plays is something that works in every league. Now, the issue with that is he has to get used to the speed of the NHL game over anything else.
Obviously, when a players comes from overseas, we worry how he's going to get used to playing on a North American sized ice. With Misyul, we're more worried about catching up with NHL speed. If he plays the puck with the same timing he does in the KHL and MHL, then he's going to be a second off on everything. That will lead to mismatches and leaving his defensive partner high and dry. However, if he can adjust his game, he can be one of the better assets on the blue line.
Misyul is getting better and better at breaking out of the defensive zone and starting the rush. Obviously, that aggressive mindset helps that, but he's just very good at passing the puck up the ice. He needs to get better handling the puck, as it seems like he plays Hot Potato with it. As soon as it hits his stick, he's looking for a teammate to give it to. That's something we'd like to see him to work on.
Draft Grade: B
Predicting When He Could Join Devils: 2022-23
His Peak: Ultra Aggressive Top-Four Defenseman
His Floor: AHL or never coming to North America
Best Case NHL Comparison: Niklas Kronwall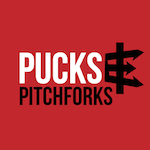 Want your voice heard? Join the Pucks And Pitchforks team!
Write for us!
We really like this pick. His kind of aggression could play extremely well on the next level, if he makes some adjustments. His offensive game is nowhere near on pace for Niklas Kronwall, but his defensive game is. If he can fix some issues with his offensive game, this could be an amazing pick. There's a lot that needs to happen for Misyul to reach his potential, but if he does this could be a great player. We expect it to take a while to get there, but it would be well worth it.