New Jersey Devils: Realistic Predictions For Nikita Gusev
The New Jersey Devils made a huge deal on Monday trading with the Vegas Golden Knights for Nikita Gusev. Now, what can we really expect from a player who has exactly zero minutes of NHL ice time?
The New Jersey Devils great offseason feels complete after they traded for Nikita Gusev on Monday. They finally got that last piece to fit into their top six, plugging him in next to another technical rookie in Jack Hughes. Pairing these two based on skill set along looks like it's going to be a match made in our dreams, but reality never works out like our dreams do.
Nikita Gusev spoke with Sport-Express Russia, as translated by NHL.com, about what he expects to do this season. To say his expectations are high would be an understatement.
"I can say anything now but first I need to play 5-10 games. Kucherov scored 128 points and this is a good goal, isn't it? So I'll try to follow him."
Woah. Yeah, 128 points is a good goal. Is it a realistic goal? Of course not, but a good one nonetheless. So we have to ask, what is a realistic goal, or better yet, what should be Gusev's expectations?
It's rare that the fans wants and needs mirror what the Devils actually do better than with the Gusev trade. There was an all-out mob to get the Russia sniper to the Devils, and it actually happened. Obviously, that raised Gusev's profile, especially in New Jersey. When the Let's Go Devils Podcast spoke with Chris Wescott, he admitted that the Devils team noticed the push for Gusev.
But, we didn't want Gusev because we thought he was putting up numbers like Nikita Kucherov, the reigning MVP. We wanted a legitimate left wing to play on the second line. No offense to Marcus Johansson, but it feels like the Devils haven't had a legit second-line left wing since Patrik Elias was playing behind Ilya Kovalchuk in 2013 lockout-shortened season.
Now, the Devils seemingly overnight have a dominant second line. They went from Jesper Bratt–Pavel Zacha-Jesper Boqvist (if he stuck around) to Nikita Gusev-Jack Hughes-Wayne Simmonds/Bratt. This is clearly a major upgrade, and Gusev is a big part of that (although going from Hughes to Zacha is the biggest upgrade). Playing with Hughes will help Gusev grow, and vice versa.
There are a lot of factors into how many points Gusev gets this season. For one, we have to see how quickly he gets used to the NHL game in general. It's much more than just the size of the ice, because his game translates well to smaller ice sheets. This has to do with the speed of the NHL and the size of the opponents and the philosophy of his opponents. It's also a much better league overall than the KHL. Last season, the Tampa Bay Lightning, one of the best regular season teams ever, lost 7-1 to the Arizona Coyotes. There are very few easy matchups. Heck, even the Ottawa Senators have Craig Anderson, who could steal a game in net.
Gusev has to get used to the NHL schedule in general. The Russian schedule goes from September to February, while the NHL schedule goes from October to April. The NHL has a lot more back to backs, especially with travel in between. That could take a toll at some point this season.
Coming off back to back MVPs, how will Gusev react to being a role player? Hockey is a little different than other sports, so it shouldn't effect him, but it's hard to tell how mindset it going to impact a player's game. Again, it shouldn't, but we just can't tell what happens if Gusev isn't on a 128-point pace.
We need to be conservative with our point predictions for Gusev. Think about this. In six of the last seven seasons, Travis Zajac has had more than 19 minutes of ice time per game. It's likely that head coach John Hynes isn't willing to drop his line's minutes because of what they bring to the table defensively. If Hynes then gives Taylor Hall's line another 18-19 minutes, then that only leaves about 22 minutes left for the second line and fourth line. If the fourth line ends up being Miles Wood-Pavel Zacha-John Hayden, are they really going to play them less than 10 minutes?
That might take a ton of minutes from Gusev's line in general. Either way, we have to imagine that Hynes will play the hot hand on any given night. For the first time ever, he has a team where he has depth. He doesn't need to rely on his top line to provide all of the offense. However, each line will have to fight for minutes.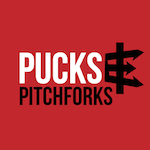 Want your voice heard? Join the Pucks And Pitchforks team!
Write for us!
This felt like a lot of negatives against Gusev, but we still think a conservative estimate for him is 65 points. He is very good, has an NHL ready shot, and can distribute with just about any wing in the league. This player could be the steal of the offseason. The Devils traded two draft picks for a player who dominated the KHL for two seasons. If this was a prospect who took his licks overseas, then we'd consider a more modest estimate. This isn't that. He could dominate the NHL, especially with Hughes to his right.