New Jersey Devils: Miles Wood In Serious Trouble Of Missing Roster
Miles Wood had a rough season a year ago for the New Jersey Devils. We hoped he would bounce back this season, but it hasn't started well.
Two seasons ago, the New Jersey Devils started the season with a flurry of interesting roster moves. One of which was leaving Miles Wood off the opening night roster. He played 60 games the year before, but head coach John Hynes did not just give him a roster spot, he made him earn it. We all remember the face Wood made when he was introduced on opening night while sitting in the owner's box. It was not fun for him.
He ended up only missing five other games the rest of that season, two of which were due to suspension. Wood was amazing that season. Of course, he was hit and miss because that is his game, but every night he was in someone's face and making life hard for the other team.
He won at least three games for the Devils. There was a hat trick scored against the Chicago Blackhawks in November. In February, he was all over the place against the Tampa Bay Lightning, and built off the last great Eddie Lack game to win. Then, at the end of the season, he scored the game-winning goal against the Toronto Maple Leafs.
Last season, he was a tire fire. This was after a lengthy contract holdout that bled into the preseason. It caused an insane drought to start the year. He had two two-point games in October. Outside that, he only had points in two other games in October AND November. It was not good, as the Devils were unraveling at the seams.
Wood is always going to be streaky. It's just how his game works. You put him in the lineup because at any point he can score four points. However, he could also go five games without making a peep. It's the clear high risk, high reward play.
Here's the problem, Wood's game might not fit on this year's New Jersey Devils team. He's having trouble making a mark this preseason. He's taken two minor penalties in three games. While he avoided the penalty box in his last game, he only earned about 13 minutes with a less than stellar group of forwards.
Maybe Wood is just going through one of his streaks where he is cold and he needs some time to warm up. The problem with that is he might be fighting for a roster spot. That sounds preposterous since he has three years left on his contract paying him $2.75 million per season, but the Devils could try something.
There are really four options when it comes to Wood. The first option is to force him on the roster by hook or by crook. If the Devils want to make this easy, that's what they'll do. They can make him the extra if he doesn't turn it around in the next two preseason games.
A second option is to trade Wood. There are plenty of teams that would be willing to give Wood a second chance, even if he hasn't tanked his value all that much. He just needs a team that's willing to let him play through his rough times until they get better again.
The third option is to send Wood down through waivers to play in the AHL. That would allow other teams to claim him for nothing. Literally nothing. If the Devils are so enamored with a player like Mike McLeod or Mikhail Maltsev, they may be forced to push Wood out. If he goes through waivers, great, then the Devils can let him work out some issues in Binghamton, and he'll eventually be ready to return to the NHL.
The last option is a buyout, but they couldn't use that until after the season. It's surprisingly cheap to buyout Wood's contract. According to CapFriendly's buyout calculator, the Devils would pay $750,000 next year against the cap, they would save an extra $250,000 on the cap the next season, then it would cost $500,000 in season three and four.
There are still two games left in the preseason, and we expect Hynes to build his rosters with more players fighting for spots than not. That means players like Wood will get ample minutes to prove his worth. That also means John Hayden and Kevin Rooney will also get the time to prove they deserve a spot more than Wood. If Wood is going to show he should be on this roster, he needs to prove it himself.
Wood is just missing a certain physicality in his game right now. It doesn't take long to get it back, but he has to work at it. He's back to relying too much on his God-given ability over making better decisions. Sure, he can fly from one side of the ice to the other to cause a turnover, but if he does it by himself while his teammates make a change, the end result is the same as if he never skated in the zone. He needs to be better at timing his use of his speed and explosiveness.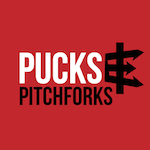 Want your voice heard? Join the Pucks And Pitchforks team!
Write for us!
Wood will be given all the chances in the world, but it says something that many fans have him missing out on the roster altogether. If we were a betting blog, which would be legal in New Jersey, we'd say he makes the team. However, the odds are going down.