New Jersey Devils: Trade Destinations That Make Sense For Taylor Hall
After looking at a few things last weekend, the report from Elliotte Friedman that Taylor Hall will likely wait until the end of the season to finish negotiations has many New Jersey Devils fans worried.
Those kinds of descriptions during the negotiations of GM Ray Shero means it is time to evaluate several ideal trade destinations. One of the criteria that seems to make the most sense are teams with "current cap space" greater than $6 million, along with being a likely playoff teams. Multiple teams might fit certain criteria, but two teams make the most sense. Winnipeg is awaiting the Dustin Byfuglien fiasco to be decided, sorry that knocks them out for now.
The first real option are the Montreal Canadiens. If you're gonna give up Hall, Jonathan Drouin would likely be in the mix. Drouin is a very exciting playmaker, and would be nice to pair on Jack Hughes and Kyle Palmieri's line because both love to shoot. Drouin loves working in tight spaces, and creating key assists. He is a few years younger than Hall, and fits the Devils timeline a lot easier and is on pace to eclipse his career high of 53 points in a season.
Drouin takes very few penalty minutes and is a very disciplined player. If Montreal isn't parting with any of their players, they do have 12 picks in 7 rounds of the 2020 NHL Draft. Ray Shero should be asking Bergevin for a Montreal 1st, a Chicago 2nd (Andrew Shaw deal), and Montreal's 3rd. If you're looking for a young blooded defender from Montreal, it's Victor Mete.
The other one that makes the most sense from a current cap space, players, and draft picks scenario are the Colorado Avalanche. Yes, we have talked a lot about the Avalanche on multiple occassions, and it does make sense. GM Joe Sakic has a Colorado 1st, a Toronto 3rd that'll be nice to dangle for Ray Shero to pry. Andre Burakovsky, JT Compher are all promising offensive pieces that Ray Shero could ask for. On the defensive side in recent articles it would be a dream to get Nikita Zadorov at a lower value price since he is on injury reserve.
Zadorov when healthy is a Paul Bunyan-styled defenseman not afraid to make players go timber with his clean hits, and will go for the big slap shot when he can. Getting a nice return on investment for Taylor Hall would absolutely be worth getting back a prime time defenseman. Years ago, Hall was traded for Adam Larsson, and Hall's stock price has soared since his arrival to New Jersey. It took a bit of a hit last season, but still Sakic would be wise to bolster his offense. Hall would make Nathan MacKinnon, Mikko Rantanen, Gabriel Landeskog and that whole Colorado offense even harder to contain.
Shane Bowers is a center and a really good player to keep an eye on who has really good speed, agility, and his hockey sense is underrated. He plays a smooth transition game via offensive zone entries. He does capitalize a lot on high danger zone opportunities and gets the bang bang goals that goalies and defensemen should prevent. He uses his size as well as his legs to keep defender away from him at all costs on the rush.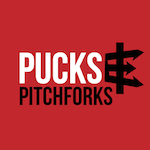 Want your voice heard? Join the Pucks And Pitchforks team!
Write for us!
Highly doubt Bowen Byram, the 4th overall pick of the Avalanche, is moved in a deal, but if he is traded in a package for Taylor Hall then Shero is an absolute genius. Either way, Ray Shero gets at least an NHL offensive-minded player, a defensive-minded defender, and an early-round pick for 2020 in any Taylor Hall deal. At this point it's in Shero We Trust because with Hall unlikely re-signing by July 1st, it is better to move on and salvage this season with a huge return on investment.