New Jersey Devils: Can Bad Teams Revel When Rivals Have Bad Nights?
The New York Rangers were completely demolished by the Tampa Bay Lightning on Tuesday night. Are New Jersey Devils fans allowed to revel in another fanbase's misery, or should we understand we're in the same position?
On Thursday night, many New Jersey Devils fans hit Twitter talking about hockey. No, the Devils weren't playing that night. The New York Rangers were, well at least they attempted to. It was a weird night for them. They were playing the uber talented Tampa Bay Lightning. The head coach decided to healthy scratch second-overall pick Kaapo Kakko. Then, the wheels fell off almost immediately.
The Rangers allowed four goals before even recording a shot on net. In 1:01 of game play, the Lightning scored three times. The final scored ended up being 9-3. There are a lot of ridiculous stats in this game. Alexandar Georgiev faced 19 shots on the power play alone. Henrik Lundqvist faced two, and both went in the net.
Anyways, we don't need to recap the game anymore. The point is, the Rangers fans were miserable, and some of us welcomed the misery of our rivals.
Should we? The New Jersey Devils season has gone about as bad as possible. Almost every single game is full of misery for us. It's either a blow out or a blown lead. There doesn't seem to be an inbetween.
With the Devils season going so bad, some of us can only get solace in the losing of other teams, especially the Rangers.
Actually, now that we think about it, this week has been a good one if you're holding grudges as a Devils fan. The Rangers got demolished. Ilya Kovalchuk is either getting cut, or the Kings will trade him wherever for peanuts. Zach Parise had to have an article written about his missed opportunities. This was petty week in every Devils' fans household.
Honestly, it's okay to be petty as a fan. As long as one thing stands, you can take as much as you give. If you go on Twitter ragging about the Rangers giving up four goals before the sun goes down, then don't get mad when you come across that when it happens here. Do you want to go in Rangers' fans mentions when they're miserable? Expect them to the do the same to you. Do you want to read the comments on the official Rangers Twitter on the final score post? Remember, Rangers fans will do the same.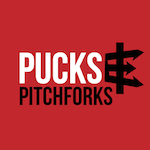 Want your voice heard? Join the Pucks And Pitchforks team!
Write for us!
Basically, we say go ahead and love the losses of your rivals. When the Boston Red Sox were eliminated from the playoffs this season, their new favorite team became anyone the New York Yankees played. The same goes for Devils and Rangers fans. Enjoy their misery, because we know in just a day or two, that misery could be ours.