New Jersey Devils: Would Taylor Hall-Matt Murray Trade Work?
The New Jersey Devils are reportedly looking for a trade partner for superstar Taylor Hall. Would Ray Shero re-acquiring a goalie he drafted make sense?
The New Jersey Devils have a problem in net. Mackenzie Blackwood has some serious issues on many nights, and Cory Schneider is just a sunk cost again this season. There are some that hope the Devils will use their biggest trade asset, Taylor Hall, to get themselves some consistency in net.
One of the teams that have been floated as having an outside chance to pursue Hall is the Pittsburgh Penguins. The Penguins are looking to extend the primes of Evgeni Malkin and Sidney Crosby while they're still elite. They are holding on for dear life to relevancy, but adding Hall would breathe new life into their roster.
The Penguins have some interesting players on the roster the Devils might want. However, the player we're going to focus on here is goalie Matt Murray.
Shero drafted Murray back in 2012. He was a gem of a choice out of the 3rd round, for a GM who's getting used to finding these players in the mid-to-late rounds. Murray was great when he first arrived on scene. Then he was bad. Then he was good again. Now he's bad again.
As you can see, Murray has real trouble with consistency. That's not a great trait for a goalie. He had a .923 save percentage his first season as a regular starter. This caused the Penguins to allow Marc-Andre Fleury to go to the Vegas Golden Knights, where he dominated and took an expansion team to the Stanley Cup Finals.
This season, Murray is sporting an .897 save percentage. That's not good at all, obviously, but at 25 years old one must admit he has a good chance to bounce back. He was .919 in net just last season.
Being that Shero scouted and eventually drafted Murray, he's going to have an affinity for Murray. This is unlike Schneider and Blackwood, who are both products of Lou Lamoriello before him. Shero also drafts a goalie prospect every season. If he was satisfied with his young goalies, he wouldn't be looking to replace them every year.
If Shero got Murray, a two-time Stanley Cup winner, who is still just 25 years old, maybe he would feel like he finally has the answer in net. Especially if Blackwood could play around 35 games a season, it would allow Murray to rest up during the season and stay healthy.
The Penguins would likely let him go, so they could rid themselves of the cloud that's coming in the offseason, where they have to sign him to a new contract. Plus, they have Tristan Jarry who's a year younger and playing elite-level hockey this season. He has a .943 save percentage in 11 games played. They also have Casey DeSmith in the AHL, who's tearing it up for Wilkes Barre (he was just named AHL Player of the Month).
The Devils could likely get Murray from the Penguins quite easily. It probably wouldn't even be the centerpiece of a Hall trade. He'd just be part of a bigger deal if one were to happen.
Now, the question is, should the Devils even want Murray?
The big problem here isn't Murray's play this season. His injuries are a much bigger concern. It seems more often than not, Murray has dealt with injuries throughout a season. He's never played more than 50 games in the regular season. It seems those two early runs to the Cup are really doing a number on his body.
The biggest issues are those lower-body injuries. Hips, groins and glutes are crucial for a goalie. If Murray is already fighting through injuries at 25, imagine signing this guy to a six-year deal. Look at how quickly players like Schneider or Jonathan Quick went from elite to awful. Murray might be well on his way to that issue.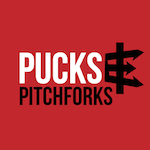 Want your voice heard? Join the Pucks And Pitchforks team!
Write for us!
Basically, the Devils should pass on Murray. Yes, the Devils need a goalie if they are ever going to end this dreadful stretch of terrible play with no end in sight. However, Murray is not going to be that goalie. The injuries just aren't worth taking a chance on. When we're talking about an asset the likes of Taylor Hall, the Devils have to hit in the biggest possible way. They cannot trade Hall for a question mark. His return must set them up for generations.