New Jersey Devils: Where Did It All Go Wrong?
The latest rumors from Pucks and Pitchforks writer Tyler Kelley shows that Taylor Hall is gone sooner rather than later. That makes us ask, how did the New Jersey Devils season go so horribly wrong so quickly?
It looks like Taylor Hall will soon play his last game in a New Jersey Devils uniform. Tyler Kelley reported over the weekend that the Colorado Avalanche are working out some final aspects of a trade, and we expect it to be a done deal before the last day of the road trip at the end of the week.
This was supposed to be the season when the rebuild ended. There was supposed to be major progress after adding Jack Hughes, P.K. Subban, Jesper Boqvist, Nikita Gusev and Wayne Simmonds. Getting a healthy Taylor Hall back was supposed to be the icing on the cake. The Devils were going to be the team to fight its way back to the playoffs. Hall was supposed to sign a monster contract that would make him a Devils player for life.
Instead, the Devils are at the bottom of the standings and Hall is on his way out the door. This is such an upsetting turn of events, this actually has some fans turning their back on general manager Ray Shero.
Where did we all go wrong? There are a few factors that are clear.
For one, the goaltending position was about as bad as it possibly could be. The Devils did not get the Cory Schneider from the World Championships or even from the preseason. He's awful, and can't even stop pucks in the AHL. The Devils traded for Louis Domingue as a sort of insurance, but he's been getting worse in each passing game. Mackenzie Blackwood has a save percentage under .900.
The Devils addressed all their weaknesses except goaltending in the offseason. Maybe Shero should have jumped at the hype surrounding Schneider by trading him, but it would be hard to move a $6 million contract. Plus, there are issues with the Seattle expansion draft coming up.
Also, the Devils went into the season with head coach John Hynes. He never seemed happy with the lineup, and a group of players who never played with each other before were now being shuffled onto different lines almost daily. It clearly wasn't a recipe for success, and Hynes was eventually fired. If he was going to do it, Shero should have done it earlier than this.
Maybe the pieces Shero got weren't as good as we hoped. Subban has certainly struggled on the blue line, but he's also had awful luck. There's still a chance for him to turn it around, but he's not enough to fix this defense on his own. Ty Smith would be a really nice piece to keep on the roster, but he's now in the WHL for some reason.
Gusev has had his struggles. So has Jesper Boqvist. Simmonds is another unlucky player who could see a turnaround.
That's the thing, the Devils needed all of these things to go wrong at the same time for the season to go this bad with this much talent. They have a former MVP, two recent number-one over picks, and speed and shooting ability up and down the lineup. Yet, they can't even score on the power play. Failures throughout the team caused this, and pointing a finger at one person won't fix anything.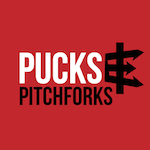 Want your voice heard? Join the Pucks And Pitchforks team!
Write for us!
Hall is as good as gone, and we have to always ask "what if". Maybe signing Jake Gardiner would have fixed the hole on the left side. Maybe forcing Hynes to change up some of his assistant coaches could have changed the philosophy. It's possible that just asking Hynes not to shuffle lines and create some chemistry would have helped. Heck, if they didn't blow every lead they seem to get, things would be different right now. Instead, we put our luck in the hands of some lottery balls. This, while we send Hall to a team where he could win it all.