Kyle Palmieri Should Be New Jersey Devils Next Captain
Kyle Palmieri has become a leader on the New Jersey Devils. Could he lead this team back to relevance?
Many of us love Andy Greene as the New Jersey Devils captain. He's been with the team since 2007. That's a long amount of time for a player to be in the NHL, and he's been captain for the past four years. When he eventually steps down from his spot, Kyle Palmieri should take the "C". Here are some very powerful reasons why.
We could use a change of position from our captain, and since Palmieri is a RW, maybe he could bring in a new balance of play to the team. Let's flashback to 2007, the last Devils player to become captain at the RW position, Jamie Langenbrunner. Three out of those four year, he was able to keep very high point totals before his final season in New Jersey in 2011. He was eventually traded to the Dallas Stars.
Throughout Palmieri's time in New Jersey, he's been able to keep himself as a competitor in points and goals. He was here before Taylor Hall. If he becomes captain, you could see him become a better player than before.
Palmieri got to play with Ducks superstars and legends. He also played with former and current Devils. He got to play with big names like Teemu Selanne, Corey Perry, and Ryan Getzlaf. He also spent his time not with former Devils players but current players too like Pat Maroon, Sami Vatanen, Ben Lovejoy, and Devante-Smith Pelly. He spent with those players so he must have gained some amazing experience playing along beside them. Palmieri could use that knowledge to become our new captain and lead us to watchable seasons, maybe Stanley Cup Champion seasons.
One more thing. Let's discuss his incredible effort on the ice. This season may have been the absolute worst for the Devils so far, but watching the team shows Palmieri has been one of the best players for the team. Taylor Hall is leaving soon, and once Hall is gone, Palmieri will be the best veteran the Devils have.
There could be a big decision made by the team for someone to step up, and Palmieri fits that role perfectly as the step up guy. He will have the most goals and the most points for the team this season once Hall is gone. His ice time may not be the best, but he is using every minute of it to create chances to get goals. A victory under coach Alain Nasreddine has been elusive, but Palmieri is doing everything he can to lead them to one. If Palmieri stays with the Devils for the future, he could be an amazing candidate for captain if he continues to play this way.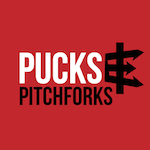 Want your voice heard? Join the Pucks And Pitchforks team!
Write for us!
To sum up everything, Palmieri has astonishing leadership skills, unbelievable experiences with NHL stars and legends alike, and a major switch for a position for captain. Kyle Palmieri could be an amazing candidate for Devils captain. It's safe to say that no one will be able to represent the type of captaincy that Devils legend Scott Stevens had, but for right now where the Devils are heading there could be a palm tree waving in the distance, which leads to a treasure of a captain that could bring the New Jersey Devils back to being fun to watch again.