New Jersey Devils Should Offer Damon Severson To Toronto Maple Leafs
The Toronto Maple Leafs announced they will be without top defenseman Morgan Rielly for around eight weeks. The New Jersey Devils, despite missing their GM, should still try and make a trade happen involving Damon Severson.
On Monday morning, the New Jersey Devils and Toronto Maple Leafs were dealing with their own levels of chaos. The Devils were dealing with the fallout that comes with firing GM Ray Shero. North of the border, the Maple Leafs learned their top defenseman Morgan Rielly was going to miss eight weeks after he suffered a fractured foot against the Florida Panthers.
The timing is really bad for the Maple Leafs, who currently sit in third place in the Atlantic Division, but only stand one point ahead of the Panthers and two points ahead of the Philadelphia Flyers, who are sitting outside the postseason.
Things are very fragile for the Maple Leafs right now, after a slow start forced them to fire head coach Mike Babcock. Sheldon Keefe has righted the ship for the most part, but with the Honeymoon Stage over, and reality setting in, the Leafs could be in trouble without their top defenseman.
On top of that, the Leafs are without Jake Muzzin. He's been on the sidelines since December, and was officially placed on injured reserve on Sunday. That leaves then churning out a first line of Travis Dermott and Justin Holl. The second line looks a lot better, with Tyson Barrie and rookie Rasmus Sandin taking up minutes. However, as a whole, this unit is in shambles.
It likely makes the most sense to send them Sami Vatanen. He's an unrestricted free agent at the end of the season, he's having a career year and he's carried the Devils defense on his back to the playoffs before. Honestly, when he was given a concussion against the Tampa Bay Lightning is when that series really ended.
However, rumors are swirling the Devils really want to keep Vatanen after the team parted ways with Shero. Either way, if they re-sign Vatanen, that leaves a very questionable future for Damon Severson. The Devils 25-year-old defenseman is signed for three more seasons after this one. He's shown flashes of being a number-one defenseman, and is at worst a second-line guy with major, major upside. He can quarterback a power play in Rielly's absence, and if a coach can find his flaws in consistency, his contract will be one of the best in the league.
The Leafs have no money to spend this year, so the Devils would have to do some cap magic to make it work.
There are some very desirable pieces the Leafs could offer the Devils in return. Mikko Kokkonen and Semyon Der-Arguchintsev are some prospects who are worth taking a chance on. The latter has potential to be a top-six forward, and the former is an 18-year-old defenseman who could turn into anything.
The player they should absolutely ask for is Timothy Liljegren. He's a 2017 1st-round pick that many expected to be making an impact by now. Some say he's on the cusp of being an NHL regular, but we've heard that before, and maybe the Maple Leafs feel a different way because as of this writing he was still with the Toronto Marlies.
Honestly, the Devils should be asking if the Maple Leafs would be willing to do a one-for-one trade. Sure, some could argue either side of that argument, however the reality is Severson has proven himself as an NHL starter with major upside who's cost controlled at a very good contract for three seasons. Liljegren is someone the Leafs don't completely trust for whatever reason.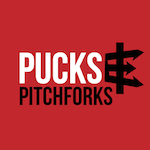 Want your voice heard? Join the Pucks And Pitchforks team!
Write for us!
Even if the Leafs say no to Liljegren, which they absolutely might, the Devils can make this work. The Leafs don't have a 1st-round pick, so they'd have to make it work with a 2nd plus a prospect for Severson. It may be worth it for both sides, as long as that prospect is at least close to NHL ready.