New Jersey Devils Nucleus That Should Be Kept By Management
February's NHL Trade Deadline is rapidly approaching and interim general manager Tom Fitzgerald has some major decisions to make. Fitzgerald has a lot on his plate, but let's take some players off his plate. These players should stick to building a winning culture. We know that owners Joshua Harris and David Blitzer see a bigger picture than what Ray Shero did, and possibly the asset management decisions along with hockey analytics likely went against Shero's decisions.
Center Travis Zajac is signed through 2021. He has been an integral part of the transition from Lou Lamoriello, to Ray Shero, and now Fitzgerald. He's been a key veteran who has been integral in growing scoring depth around Blake Coleman and Nikita Gusev this season. Zajac has been a great two-way center who has taught guys like Nico Hischier to tap into the potential of a possible Selke Trophy Award nominee and an All-Star center this season.
Kyle Palmieri is one of the grittiest, feistiest, heart and soul snipers that Ray Shero acquired from Anaheim at the beginning of his tenure. Kyle is a New Jersey raised player who plays on the NJ Devils first line and he knows what it takes to drive the top-two lines at the NHL level. Palmieri has scored 235 points in 342 games. Palmieri has been key to the success of Nico Hischier, and is beginning to build chemistry with Jesper Boqvist.
Nikita Gusev has really benefited from the line chemistry with Blake Coleman and Travis Zajac. Gusev has learned to comprehend how to become a more sound two-way sniper. He has really benefited mentally and gained more positivity from interim head coach Alain Nasreddine's team-first system. His command of English is growing, and that skill is integral to his near and long-term success in New Jersey. Gusev has been one of the most underrated stick-handlers, and passers since the coaching change.
Blake "Pickles" Coleman has been nothing short of the modern-day John Madden. He's a power forward who doesn't give up on a play, he is a very sound defensive forward, and he helps push the play along the boards. Coleman is on pace to blaze past his career high points total from one season ago. Coleman has built his legacy as a power forward in New Jersey who can do just about anything to help build the New Jersey Devils going forward.
Nico Hischier has scored 0.66 points per game in his career. Ever since Taylor Hall was traded to Arizona, we have seen Nico begin to flourish and will be a fixture for 7 more seasons. He will likely become the New Jersey Devils captain under the next New Jersey Devils head coach. Nico Hischier will be guiding Jack Hughes to near and long-term success on adjusting to the NHL style of play and being able to drive the top-two lines for many years to come.
Jack Hughes is going to be mentored by an All-Star center teammate in Nico Hischier. Hughes knows it is not easy going through your first 82 games. Players are a lot faster and more physical in the big leagues. However, with the blessings of his youth and willingness to learn, he will eventually put up big numbers and become the clutch center we expect. Once Hughes builds up his physical build, and utilizes his speed, smarts, and skills he'll become an unstoppable force for a long time in New Jersey.
Jesper Boqvist has been a great player being held back for quite a while. He finally got clicking against Winnipeg in the shootout. He seems to be very comfortable playing strong on the puck. Mainly, he's been better since he has had his ice time up. The more Boqvist gets his playing time and makes slight adjustments shooting the puck more the points will begin to pile on.
Jesper Bratt has been scoring more frequently than his fellow countryman. Bratt has added on more muscle mass this offseason and has looked really good skating on top-three lines. He is on pace to pass his 33 point total from last season. His game on defense is beginning to work a little more with his positioning. His passing is one of the best on the team in finding teammates with the slightest of open space.
P.K. Subban has finally turned a corner since John Hynes was replaced by Alain Nasreddine. Subban's beginning to play his offensive-defenseman game since scoring his first goal against the New York Islanders in a 2-1 win. Despite his $9 million cap hit for the next two seasons after this, it would be wrong to trade him. It would send a bad message to other teams who would signal red flags. Subban going into next season under the same or similar system that allows him to play like this will only help his productivity to increase.
Sami Vatanen the Finnish phenom has been nothing short of brilliant since Ray Shero traded for him. He's provided everything in from physical and sound defensive play to playing offense. He is about to eclipse his NJ Devils season points record of 28 at the pace he's going at. Sure his name maybe in trade rumors, but with the likes of Fitzgerald around contract talks will likely be conducted.
Will Butcher over the course of this season has a similar Goals per 60 similar to Sami Vatanen at 0.13. He typically scores 30-44 points a season and has been a pretty good 3rd pairing offensive-defenseman. He may not be a big name, but he's still an underrated defender that the Devils need to keep. With the likes of Ty Smith, Kevin Bahl, Nikita Okhotyuk, Reilly Walsh, and Daniil Misyul coming over the next few seasons, Butcher's time through July 1st 2022 will be a testament to see if the young guys are ready to take his spot.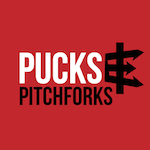 Want your voice heard? Join the Pucks And Pitchforks team!
Write for us!
Mackenzie Blackwood as a goaltender has gone through a lot of growing pains the past few campaigns since he was called up more than a year ago. Over the past two seasons, Blackwood has averaged a 0.911.5 save percentage. Only if he had a Jaroslav Halak type backup behind him and an amazing sounded defense earlier he would likely be in the top 10 NHL goalie.
After the NHL Trade Deadline and the NHL Draft conclude, be aware that New Jersey Devils will make a lot of changes, but these players should not be among them..