New Jersey Devils: Why The Idea Of Tanking Means Nothing
Another lost season is upon the New Jersey Devils and its fanbase. It is unfortunate that after the offseason former GM Ray Shero had we are calling the 2019-20 season dead in January. It is really unfortunate that this has to be talked about again, but Devils social media will be out in near full force to call on another tank very soon.
We're here to talk about why there is just no point to the concept of tanking. We will state a number of different reasons and explain each reason. After seeing all these reasons, hopefully fans understand why it is not okay to actively root for your team to lose.
Odds of Winning Again Are Low
The Devils were blessed with winning the NHL Draft Lottery twice in the past three seasons, which of course landed them top prizes Nico Hischier and Jack Hughes. With the Detroit Red Wings all but guaranteeing themselves the last place spot in the league, and therefore the best odds to bring home the number-one pick in the 2020 NHL Draft, it lowers New Jersey's chances significantly. Maybe you are thinking, "but the Edmonton Oilers", yeah and look at how that panned out for them prior to Connor McDavid. Even still, the Oilers had many struggles, winning this lottery does not guarantee immediate success.
It Is Better To Be Competitive Now
Believe it or not, this team is a lot closer to success than people think. They are just a couple of correct transactions away from being in the hunt and back in the playoffs. Do not be ignorant and say just because that we are at the bottom of the division that the offseason was a failure, it was not.
The Devils held on to John Hynes for way too long, and then ownership decided they were done with the constant rebuild after such a great offseason, so they relieved Ray Shero just about a month later. You never know what could be possible, this season may be over, but next season could be very interesting depending who comes in both the player and management sides. So might as well show that you are still not five years away from even being relevant again.
You Are Devils FANS Right?
Everyone here is likely loyal to the New Jersey Devils. This is like a marriage. We are fans through "sickness and health". Yet, last year fans were actively rooting for our team to suck. The concept of tanking is understandable. Fans and teams want the best odds for the number-one pick. But at what point is it ever acceptable to root for your own team to be blown out of the water and get embarrassed night after night?
Most notably, last year's game against the Calgary Flames in which they lost 9-4, that team got embarrassed. But what was more embarrassing was still seeing Devils fans cheering the Flames goals after the game was already well out of reach. That is truly embarrassing. Support your team no matter what, if you know it is a lost season, but still want to watch and support the Devils. If they win, great, and if they lose, oh well season is over anyway. Never root for them to lose! Nothing is more pathetic than rooting for your team to lose games.
Hischier and Hughes are prizes New Jersey got because the team never gave up, two games from each "tanking" season specifically.
During the Hischier draft season, the Devils took on the Philadelphia Flyers, an arch rival late in the season. This game got intense and actually needed overtime to find the games first goal scorer. Of course some "fans" were calling for a Flyers victory. However, former defenseman John Moore aka "Mr. 3 on 3" had other plans as he put one home to give the Devils a 1-0 victory. This ended up being a crucial victory as it helped them finish the season with 70 points and a tie breaker victory over the Arizona Coyotes, who also had 70. Think about it, one point, that was picked up in this game made all of the difference. If Arizona is in that position instead they get Nico Hischier because they would have gotten that lottery combination.
During the Hughes season, we go right to the final game of the season against the Florida Panthers. Another close and crazy game that required overtime, but this time it was 3-3. Naturally the pro-tank people were out in full force as a Florida goal would have allowed the Los Angeles Kings to pass us in the overall standings. Life-long Devil Travis Zajac said "nah" we are closing the season on a positive and puts the puck in the net for a 4-3 victory, leaving them one point ahead of Los Angeles. The Kings would have had the magic combination for Jack Hughes if we "tanked" and lost the game.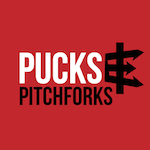 Want your voice heard? Join the Pucks And Pitchforks team!
Write for us!
If you prefer to see the Devils lose games for no reason whatsoever, this isn't the writer for you. There are plenty of Pucks and Pitchforks writers who agree with you. An absolute minuscule chance at the number one pick? It has been proven time and time again that the lottery is all luck and the worst team is almost never the winner. The Devils are living proof of that! Bottom line, cut out the nonsense and cheer your team on to victory for better or worse. The New Jersey Devils will be great again, soon.