New Jersey Devils Trade Deadline Profile: Vancouver Canucks
The Vancouver Canucks and New Jersey Devils haven't traded with each other since Cory Schneider was dealt on draft day. Maybe they can come together and make a move this season.
The New Jersey Devils season was one full of talent, but ending with futility. They just can't seem to put together 60-minute performances. That's led them to falling closer and closer to the basement of the NHL, a spot they have become all too familiar with in recent seasons. We suppose it could be worse. We could have traded away our 1st-round pick.
Speaking of draft picks, we're getting to that time where the Devils are going to be moving some of their pieces for picks. The NHL Trade Deadline is less than two weeks away. The Devils need to be taking calls on just about everyone on the team, and they should be willing to move just about every player.
It's been close to seven years since the Devils and Canucks made a trade, essentially sending Bo Horvat to the Canucks for Cory Schneider. This season, they could hit that well again.
The Canucks are enjoying unusual success this season. They've missed the playoffs for four straight seasons. They haven't gotten out of the first round since they lost in the Stanley Cup Finals back in 2011. Now, they are leading the Pacific Division. Despite that, they are only five points from missing the playoffs altogether. We see the Canucks doing what it takes to stay where they are.
They might be looking at a long list of Devils players. The current rumors say they've been calling on Wayne Simmonds. TSN's Insider Trading claims his physicality, along with his offensive abilities would make him a fit there.
Beyond Simmonds, the Canucks would probably like to upgrade the defense. They've allowed 175 goals this season, which is more than all the playoff teams in the Central Division. They also would have to play the likes of Edmonton (Connor McDavid/Leon Draisaitl), Arizona (Taylor Hall/Phil Kessel), Calgary Flames (Matthew Tkachuk/Johnny Gaudreau) or the Vegas Golden Knights (Mark Stone/Max Pacioretty) who have elite offensive talent. Every single one of these teams can score, so adding someone like Andy Greene or Sami Vatanen would make sense.
The Canucks do have around $18 million to spend in the offseason (with the cap possibly going up), but we don't see them going after players with term. They have some free agents of their own they need to make decisions on, and having the space taken up by Kyle Palmieri or Damon Severson complicates it even further. Beyond that, it would cost them a price they're probably not willing to pay.
The Devils have a lot of assets to choose from in Vancouver. Since the Canucks have young stars already on the roster, they may be willing to give up some of their prospects. We don't see them giving up goalie Thatcher Demko, but their other goalie prospect Michael Dipietro could be had for the right return. Vasili Podkolzin and Nils Hoglander are also probably sticking in the Great White North. However, the rest of the prospects beyond them are available.
Jett Woo has always been an intriguing prospect. He took a real jump last season, but fell off a little bit after he was sent to the Calgary Hitmen in the WHL. He's still a defenseman that's scored 35 points in 52 games. That's not bad at all.
Olli Juolevi is another decent defensive prospect that would get the Devils excited. He could help make the Devils defensive prospect pool in general look a lot better.
The issue is what the Canucks would be willing to give up for a rental. They don't have a 1st-round pick thanks to the J.T. Miller trade with the Tampa Bay Lightning. If they aren't looking to give up a top prospect and they don't have a 1st-round pick, Vatanen is off the table.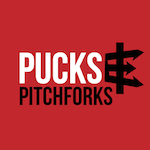 Want your voice heard? Join the Pucks And Pitchforks team!
Write for us!
This trade should just focus on Simmonds. If they are interested in him, the Devils should jump on it while he's playing well. He has four points in the last three games, including two goals to lead the Devils past the Red Wings. Finding a scoring touch is crucial in him building his value.
Even with his most recent surge, the Devils won't ask for much in trade value. Last season, Simmonds got the Philadelphia Flyers a roster player in Ryan Hartman and a 4th-round pick. His value is even lower this season, and the hope he'll get back to that 30-goal scorer is out the window.
The Devils would be happy to get a 4th-round pick here. Simmonds is a free agent at the end of the season, and it's clear he's just a fourth liner at this point. He would give the Canucks some grit, which they will need in the playoffs, and he can score a clutch goal here and there. Simmonds could have a similar run that Patrick Maroon had for the Blues last season.