New Jersey Devils Trade Deadline Preview: Pittsburgh Penguins
The New Jersey Devils have some assets other teams are going to covet, but one team that will be very interested is the Pittsburgh Penguins. A trade can be made for the former team of current interim GM Tom Fitzgerald.
For years, we've been saying that the Pittsburgh Penguins and the New Jersey Devils are perfect matches for a trade, since the Devils had some NHL talent they needed to ship out and the Penguins had players former GM Ray Shero actually drafted. That never actually happened, outside of the deal that brought Beau Bennett here. Maybe it was because Shero never wanted to be looked at as a "loser" to the man who replaced him and won two Stanley Cups in his absence.
Shero wasn't the only former Penguins front office rep that came to the Devils. Tom Fitzgerald joined the Penguins in 2007, became their assistant GM in 2009, then in 2015 he joined Shero in New Jersey.
At this point, there's not a ton of guys on the Penguins who were drafted by Shero and Fitzgerald that could be had in a trade deadline deal. The Devils are looking for picks and prospects in deadline deals. Sam Lafferty is the only Penguins top-ten prospect that was drafted before 2015 coming into the season.
Still, that shouldn't stop these two teams from talking. In fact, since Fitzgerald has no ego when it comes to trading with his former team, it's probably even more likely the Devils and Pens can make a deal happen.
We see the Penguins calling on multiple players, but we think they'd be more interested in the players with term. We're specifically looking at Blake Coleman and Kyle Palmieri.
Coleman is the exact type of player the Penguins always go after. He's on an extremely cheap contract, is a pure effort player and he scores goals in ways we don't expect. With Nick Bjustad and Jake Guentzel out for the foreseeable future (Bjustad was supposed to return soon, but we just learned he isn't even skating), the Pens could use some scoring on their bottom six.
The Penguins did just trade for Jason Zucker of the Minnesota Wild. That definitely helps the Penguins top six, but the bottom six leaves a lot to be desired. Zach Aston-Reese, Teddy Blueger and Brandon Tanev were the Penguins third line in the last game. Sam Lafferty, Patric Hornqvist and Andrew Agozzino were the team's fourth line. Those players are mostly 20ish point players, although Hornqvist is a strange name to see there. What a fall we've seen from him.
Adding Blake Coleman to the fold would push the Penguins to possible favorites. Obviously, play in net would be a factor, but getting Bjustad and Guentzel back with Coleman and Zucker on the roster gives them scoring on every single line.
Palmieri would be a little more difficult. The Penguins are in a bad way this offseason, with just $12 million in cap space and Matt Murray, Tristan Jarry, Dominik Kahun, Jared McCann, Dominik Simon and more needing new contracts. They have to make moves without adding the salary that comes with Palmieri.
We see the Penguins going hard on Coleman, but there's another issue. They lost their 2020 1st-round pick in the Zucker deal. They also lost Calen Addison, possibly their best defensive prospect. In fact, The Hockey Writers ranked him as their best prospect in the midseason rankings. So, the Penguins don't have their best prospect, their 1st-round pick, their 2nd-round pick (traded away during the Vegas Golden Knights expansion draft) or next year's 1st-round pick (thanks to conditions on the Zucker trade).
To make a Coleman deal happen within the division, the Penguins would have to give massive quantity. We're talking about emptying the cupboard. Some might say the Devils should go after the Penguins goalie Casey DeSmith. The issue there is DeSmith is already 28 years old and is likely not an option going forward for most teams. If the Penguins are willing to give up Tristan Jarry, then that's a move we'd be willing to listen to, but we don't see it happening that way. In fact, we think the Penguins would be much more willing to trade Matt Murray than Jarry, but we would pass on that one.
All deals would have to include Pierre-Olivier Joseph. He's a nice defenseman, although he hasn't had the best season this year. He can move the puck, which seems to be a theme for Devils prospects. Still, it would add to the quantity of Devils defenders in the pipeline.
The deal would also have to include Samuel Poulin. Yes, taking the Penguins two top prospects in a deal is asking a lot, but to get Coleman it is going to take a lot.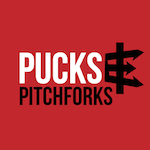 Want your voice heard? Join the Pucks And Pitchforks team!
Write for us!
We see the deal going down something like this: Blake Coleman and Louis Domingue go to the Penguins in exchange for Samuel Poulin, Casey DeSmith (a backup for this year at least), Pierre-Olivier Joseph, and a 3rd-round pick in 2021.
Some may think it's not enough for Coleman, but trust us this is a haul. Poulin was the Penguins 1st-round pick in 2019. Joseph was the Coyotes' 1st-round pick in 2017. In fact, this would probably be too expensive for the Penguins liking. However, if the Devils are going to give up a player like Coleman who has extremely affordable term, then need to at least set themselves up for success in the future.