New Jersey Devils Reset Trade Market With Blake Coleman Trade
The last 24 hours have consisted of mixed emotions for New Jersey Devils fans. Their 4-3 shootout win over the Columbus Blue Jackets was preceded by fans seeing one of their favorites and the team's leading goal-scorer Blake Coleman, along with longtime veteran and captain Andy Greene, shipped out in two separate trades within hours of each other.
Coleman's return was astounding, making it worthwhile to part with such a valuable, adored, and coveted asset. The New Jersey Devils acquired the Vancouver Canuck's 2020 1st-round pick (becomes 2021 first-round pick if Canucks miss playoffs), which the Lightning previously acquired last summer, along with prospect Nolan Foote.
Drafted 27th overall by Tampa Bay in the 2019 NHL Entry Draft, the 6'3'' left wing was regarded as one of the organization's top prospects. Currently in his fourth season with the WHL's Kelowna Rockets, Foote has 15 goals and 33 points in 26 games. He'll be turning pro next season, and is already being considered New Jersey's second-best prospect behind defenseman Ty Smith.
Tampa parted with a hefty haul, one that could have resonating effects on the trade market over these next seven days. According to TSN's Trade Bait List, eight of their top 20 trade candidates are wings (the same position as Coleman), and 12 are forwards in general. There's always a demand for supplemental scoring around this time of year as teams gear up for another deep playoff run, or push to clinch a postseason spot. For the market's top candidates, previous trades for similar players usually set a precedent around this time of year.
Including the Pittsburgh Penguins and Minnesota Wild's trade involving Jason Zucker, this and the Coleman deal seem to have formed the current precedent in a return package for quality scoring talent—a top prospect and 1st-round pick.
Having said that, both Coleman and Zucker are under contract beyond this season. In Coleman's case, Tampa can easily accommodate his cap-friendly $1.8 million AAV for another season, despite the team's extreme limitation of space—a small hit for someone they're expecting to become an impactful addition to their roster. These factors would naturally make Coleman valuable enough for a team like Tampa to justify parting with such a bountiful package, in addition to his unique skillset, tenacious drive, and goal-scoring abilities.
So, what could this mean for other teams looking to ship the market's top available forwards?
Out of the top-12 forwards purportedly available according to TSN, seven are unrestricted free agents this summer, and will largely be rentals. It was demonstrated in the return for Taylor Hall that a player in their contract year can hinder what teams are willing to part with in a trade, even if they are certified stars.
When inquiring about the top forward candidates available in contract years over the next week, general managers could ask themselves, "Why part with a 1st-round pick and top prospect if the New Jersey Devils barely got that type of return for a star-caliber player like Taylor Hall, while they got a better package for an inferior player—but skilled scorer—in Blake Coleman with another year left on their contract?".
Being two of the biggest trades to occur this season, the Hall and Coleman deals could be setting parameters in place that buyers will try to negotiate in between vying for the top rental forward candidates. In the case of someone like Chris Kreider—currently considered the top trade target by TSN—teams will still probably be willing to part with the aforementioned precedent of a 1st-round pick and top prospect or young roster player (that isn't an established core asset). Same could be said for Senators Center JP Pageau, who will also command a lot of interest over the next week.
This is notable since despite Coleman's extra year, Kreider and Pageau are arguably both better players, although Hall is the best out of all four. Using the two high-profile New Jersey Devils trades as parameters to negotiate within, general managers looking to be buyers could use Pageau and Kreider being rentals to their advantage, putting the New York Rangers and Ottawa Senators in an awkward position.
Other popular rental trade candidates like Tyler Toffoli and Ilya Kovalchuk could be impacted since less of a chance their new teams make out in the end. This could lead to selling teams accepting a simpler package along the lines of one or a combination of second, third, or fourth-round picks in this and/or next year's draft.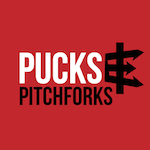 Want your voice heard? Join the Pucks And Pitchforks team!
Write for us!
Organizations allegedly making younger players available that teams will have control of beyond this season like Kasperi Kapanen (Toronto), Chris Tierney (Ottawa), and Andreas Athanasiou (Detroit) could use New Jersey's return for Coleman to their advantage by demanding a return commensurate with what the New Jersey Devils received for Coleman, or use it as grounds (depending on the player) to ask for more than their initial asking price.
The Devil's two biggest trades this season have certainly sent shockwaves throughout the league, and could influence how this year's current top forward trade candidates are valued. Parameters for return packages are typically set in the months or weeks leading up to the deadline, and if these aforementioned scenarios are in fact the case, it's not often one team establishes those boundaries that general managers seeking top-end assets will look to operate within during negotiations.