Both New Jersey Devils and Buffalo Sabres Lost Wayne Simmonds Trade
For the New Jersey Devils and Buffalo Sabres, a trade for Wayne Simmonds may end up being a loss for both teams who are looking to improve.
It's the early afternoon for the trade deadline, and for the New Jersey Devils they have to start making crucial moves to help the team get ready for next season. This move, however, was not one of them. The Devils traded away forward Wayne Simmonds to the Buffalo Sabres. The return for Simmonds is a 5th rounder in 2021. Despite people saying the Devils lost the trade, there is an excellent reason to think both teams lost this trade.
Wayne Simmonds on the Devils was a Disaster.
Last July, the Devils signed Simmonds to a one-year deal. While getting Simmonds in the offseason paled in comparison to the P.K. Subban trade made earlier in the offseason, we were excited to see if Simmonds bring his known presence for scoring in Philly to Newark.
However, this deal ended up backfiring. Simmonds didn't do that good of a job on the ice. He wasn't showing himself to be a good move for the Devils at all. Sure, he scored goals from time to time, but he wasn't playing like he did in Philly for most of his career. There was, however, one bright side about him playing here.
Simmonds leadership helped the Devils remain positive
This team had no direction on the ice this season. Even if Andy Greene was still the Devils captain, it felt like this team had no strong leaders. Simmonds was one of the players that felt like a captain.
While people usually think a captain is all about leading the players to a championship, that is not entirely the case. Simmonds helped his case when he stood up for his teammates from getting pushed around. Simmonds also tried to help the team become better, despite the record showing otherwise. He and P.K. Subban made a good pairing on trying to help guide the team. Before we see what's bad about this deal for the Sabres, let's take a quick look at what the Sabres gave the Devils back.
What's bad about the return for Simmonds?
Lately, GM Tom Fitzgerald has some excellent returns in trades of Blake Coleman and Andy Greene. They got some good prospects and picks for them. This trade, unfortunately, resulted in a bad pick. The return is a 5th-round pick in the 2021 NHL Draft. Fans are not happy about the return, and there is a good reason why. Simmonds may not be good this season, but a 3rd rounder would have been a better deal. It would've been fair to negotiate a 3rd rounder instead of a 5th rounder next season.
Both sides would end up getting something reasonable out of the deal that might help their organizations. Buffalo would get Simmonds who they can improve on, and the Devils can work around a 3rd rounder for the future. Speaking of Buffalo, there is one question to think about with this deal.
If the Sabres are trying to get to the playoffs, why would you get Wayne Simmonds?
The Sabres, like every team around this time, are trying to improve. Buffalo certainly needs to grow because they have a chance to go to the playoffs this season. Buffalo may be 10 points back from getting a wild card spot for the playoffs, but with the season that Jack Eichel is having, and how Rasmus Dahlin is improving, it would be interesting to see if Buffalo tries to get a spot. So let me ask this, why would the Sabres go after a player who isn't having a good season?
Simmonds isn't playing well on the ice this season, scoring only eight goals to go along with 16 assists. Buffalo could try to improve on how Simmonds plays. If I were coach Ralph Kreuger, I would try to see which line Simmonds would feel comfortable is playing on. I would also try to work on a line to give off his leadership skills to the players that need it most.
What happens if Buffalo doesn't go the playoffs?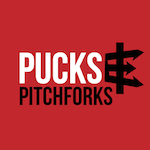 Want your voice heard? Join the Pucks And Pitchforks team!
Write for us!
Just like the Devils, the Sabres could end up regretting getting Simmonds if the team doesn't improve. But there is one significant difference between both sides. While the Sabres are still hoping they get in the playoffs, there is still a very likely chance they don't get even a wild card spot. But what is worse than not making the playoffs? Simmonds is a free agent next year if the Sabres don't get into the playoffs that mean that Simmonds has spent more months with the Devils instead of the Sabres. So the Sabres better not let this $5 million signing go to waste because if they do, it would be one of the moves the organization would end up regretting for a long time.
To sum up, both teams in many ways have lost this trade. From not getting a better pick to having a not great player to help your organization make the playoffs, it's clear that this trade is not good by any standards. It would be interesting for the Devils to try to get Simmonds again in the offseason to give him another chance because I liked the way he led the Devils.