New Jersey Devils: Nikita Gusev's Expectations Going Forward
The New Jersey Devils took a big swing on an unknown asset when they traded two draft picks and gave a $9 million contract to Nikita Gusev. After an up-and-down first season, what can we expect going forward.
The New Jersey Devils have a lot of question marks going into next season, if indeed this season is over. This season has gone as bad as possible, and that's led to a ton of changes. Right now, we have no idea what we're getting from about anyone outside of Kyle Palmieri and Travis Zajac. Honestly, everyone else's future contributions are completely up in the air. That includes former Russian superstar and current Devils winger Nikita Gusev.
Gusev was the cherry on top of a winning offseason for the Devils and GM Ray Shero. When the Devils made the move on July 29th, the fanbase was incensed. The Devils were bringing in the reigning KHL MVP. This, on top of a returning Taylor Hall, a newly drafted Jack Hughes and finally getting the first-line defenseman in P.K. Subban, the Devils were cooking with gas.
We don't need to look back anymore. It didn't go great, and now the season could be over due to a global pandemic. So let's look forward.
Gusev isn't exactly the biggest question mark going forward, thanks to a big turnaround after a rough start. Gusev is still one of the most consistent players, probably ending his season with 44 points over 66 games. He was on pace to easily break 50 points on the season, which would have unfortunately been around the team lead.
Next season, we expect another jump in production from Gusev. Since December, he's averaged about 10 points per month. He had his best games alongside Travis Zajac and Blake Coleman. Now, Coleman is on the Tampa Bay Lightning, and Gusev hasn't played much with Zajac as of late. Still, Gusev has excelled.
There's a lot of upside with Gusev. Finding his true upside is a little complicated, because we know that he can be better than he's been. He has one of the best playmaking talents in hockey. We really mean that. Yet, he hasn't lived up to that when it comes to the point sheet.
Next season, we expect him to take a step in the right direction. We at least expect him to hit 10 points per month no matter who's on a line with him. Gusev is going to at least hit 65 points as long as he stays healthy. He's at the point where he's used to the NHL game, and now he just needs to adapt his skills to excel at this game.
How Gusev ends up doing next year of course has a lot to do with who he spends his season next to. Is he going to be on a roller coaster of mixed lines, or can he stick with two guys for most of the season and build true chemistry? Let's say he's paired with Pavel Zacha and Jesper Bratt. He could have a really nice season. However, if they decide to make a splash in free agency, or trade for a dynamic right winger, it could push his production even higher. If the Devils sign Alex Galchenyuk to finally find his true potential and pair him with Gusev, they could play off each other really well.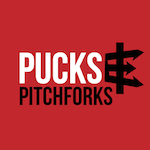 Want your voice heard? Join the Pucks And Pitchforks team!
Write for us!
Either way, we're expecting an even better Nikita Gusev in 2020-21. Our minimum expectations are 65 points, but we think he can push himself to a point-per-game player in the right situation. It all depends on the coach the Devils hire and the linemates they give him.