New Jersey Devils Apologized And Gave Workers Their Salaries Back
The New Jersey Devils were the first team to cut salaries due to the Coronavirus pandemic shutting down the season. Today, they reversed that decision.
The New Jersey Devils admitted their mistake on Tuesday. Mark Stein of The New York Times reported Josh Harris and David Blitzer were the first NHL team to reduce worker salaries in order to keep everyone employed. Honestly, at first glance we weren't sure how to process the idea. We are in unprecedented times, and we have no idea how to response to anything. Everything we learn daily is brand new information that we're forced to react to.
Of course, learning that a billionaire's business is cutting the salaries of employees who make any more than $50,000. Imagine losing 20% of your salary off the bat seemingly out of nowhere. These are unprecedented times, like we said, and we don't know the ins and outs of what the Devils are doing to make money. Still, we know these employees are doing what they can to get by.
The Devils and its owners made a decisions that we have to believe is the right one. They reversed the paycut of Devils employees, giving them their full salaries for the time being.
In a statement sent out through the Devils social media channels, they admit they were wrong. It would be one thing to say they were reversing the decision at the behest of employees. It's something entirely different to come out and say they were wrong.
"After listening to our staff and players, it's clear that (cutting salaries) was the wrong decision. We have reversed it and will be paying these employees their full salaries. This is an extraordinary time in our world – unlike any most of us have ever lived through before – and ordinary business decisions are not enough to meet the moment. To our staff and fans, I apologize for getting this wrong." -Josh Harris
We usually talk about the hockey side of things here with the Devils, and the hockey side of things has been about as bad as possible. However, the Devils are one of the teams actually doing right in a lot of this pandemic. Did they make the wrong decision putting stress on their employees by telling them they would be losing thousands of dollars while waiting out this pandemic? Sure, but it's not often that a billionaire admits his mistake. On the contrary, usually they will double down.
The Devils are making us proud to be fans after the morale for this franchise was about as low as it possibly could have been. However, they've been making good decisions tied to the pause this season has taken. Nobody was going to stop them from cutting salaries. Heck, the NHL followed suit, and from what we've seen they haven't reversed the decision. So, the Devils could have hidden behind the NHL's decision, but they listened to their employees. They listened to the backlash from people who make enough to pay for their MIddlesex County home and to keep the lights on while their kids are home from school.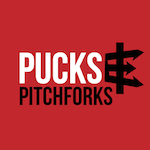 Want your voice heard? Join the Pucks And Pitchforks team!
Write for us!
This is a whole new world, and it's good to know one of the teams we root for have the right mindset going into it. The same can't be said for those of us who are also New York Knicks fans.