New Jersey Devils: Can P.K. Subban Still Be One Of The Best In The NHL?
New Jersey Devils defenseman P.K. Subban said recently he believes he can still be one of the best defensemen in the league. Is this a realistic goal for the 31-year-old defenseman?
There's been a quote going around from the mouth of P.K. Subban about his view of his game. Obviously, his first season with the New Jersey Devils didn't go as planned. His rough start to the season led to the Devils falling apart, along with Taylor Hall failing to score, Cory Schneider falling off a map, Jack Hughes and Nikita Gusev starting their first years off slow as molasses, Mackenzie Blackwood playing terribly, (breath), John Hynes switching lines constantly, the rest of the defense giving up way too many 2 on 1s, Ty Smith failing to make the team and leaving a hole in the lineup, and somehow more.
Obviously, it wasn't all P.K. Subban that led to the Devils downfall this season, but his presence was supposed to be an anchor for a defense that just hasn't been in a good position in a long time. He was going to be the top guy who elevated everyone else. On paper, the Devils should have had the best defense they've had in years. Subban would pair with either Sami Vatanen or Andy Greene, depending on whether you wanted to play someone out of position. So this is what we thought our defense might look like:
Vatanen-Subban
Butcher-Severson
Greene-Smith
Mueller-Carrick
Again, that's the most talented group we've seen in years. Unfortunately, there was just no chemistry in this group to start and things went sour quickly. It didn't help that Hynes switched lines every single game. It was the struggles of this defense that led to many acting surprised when this headline from Subban's interview with Men's Journal surfaced.
"In my opinion, I'm still one of the top defensemen in the league,"
Just look at the quote. Calling yourself one of the best defensemen in the entire NHL is something, and we're sure a lot of players act that way. For the sake of clarity, let's take a look at the question and the full quote.
Q: How important is it to win a second Norris Trophy? Does that ever enter your thinking?

A: I wanna win everything. I wanna win everything every year. That's what you train for. If I didn't have the mindset of trying to be the best at what I do every day then what's the point of doing it. You might as well retire. I mean, in my opinion, I'm still one of the top defensemen in the league. In the biggest games, in the biggest moments, I feel that I'm one of the players that teams would love to have on their team and that they can rely on, and that's always been my game.
Alright, so we're not going to point the finger at anyone, but when looking at the full quote, it shows it wasn't as cocky as it comes off in the aggregation. Either way, Subban still believes he can be one of the best this league has to offer.
We must ask, is that possible? Can Subban once again find his $9 million form?
There are reasons why we should be optimistic. Coming into New Jersey, the biggest concern for Subban was injury and whether he could handle the load he once did. He had the second-lowest minutes total of his career, but he still was on the ice for 22 minutes per game. Damon Severson did beat him for the most time on the ice, but it's clear that Subban wasn't playing less time than his peak because of his ability to handle it. The Devils just have a different philosophy.
Subban was actually getting better as the season went on. He said in this interview that the move to the Devils was a major adjustment period. He went from a veteran-laden team in Nashville to a very young team in New Jersey.
Honestly, we are worried about what we saw out of Subban this season. His offensive game looks like it's only booming slap shots. Subban's speed is not near what it used to be, and his playmaking ability took a major step back. There is a possibility that there's a reason for that. He never got a chance to get used to a pairing. Over the course of the season, he spent significant time (100+ minutes at 5v5) with Andy Greene, Sami Vatanen, Will Butcher, Damon Severson, and Mirco Mueller.
Also, he was trying to be "the guy". Clearly, Subban was trying to do it all for the Devils, and it led to mistake after mistake. Next season, a new coach will likely know that Subban needs to just play fast and loose. This would lead to Subban bouncing back in a big way.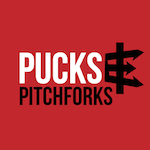 Want your voice heard? Join the Pucks And Pitchforks team!
Write for us!
To answer the question, Subban can absolutely bounce back and be the Devils' top defenseman. He has a long way to go to prove to us he can be one of the best defensemen in the league. We see an outside chance he gets back in the top ten, but even if he can be a top-20 defenseman, after the way this season ended we'd be thrilled.