New Jersey Devils Should Worry About Cory Schneider's Latest Comments
The New Jersey Devils have a major Cory Schneider problem. If the pandemic pushes next season into December, then the problem is even worse.
New Jersey Devils goaltender Cory Schneider just spoke to TSN's Mark Masters about what he is doing in quarantine and the feelings he has about some hockey decisions. It was intriguing to hear what he thinks should happen to a 24-team playoff since he has no dog in this fight. However, one comment he made should worry Devils fans and management.
"If we don't go back this year and next year doesn't start until December or January or something like that, you're looking at nine, 10 months without having played a game and for a guy playing my position and at my age, 34, that's a long time."
The Devils have watched as Cory Schneider's confidence eroded at the beginning of every season, and the second we see the first sign of an issue the train falls off the tracks. This past season, Schneider left the first game of the season with an injury, and he never got his groove back. He returned four days later and was terrible.
He ended up with a .847 save percentage in October. It's rare that a goalie does this bad and gets another chance in the NHL, but it's rare to have a $6 million goalie fall apart as spectacularly as Schneider has.
The season before, Schneider was coming off a confidence-inducing playoff series against the Tampa Bay Lightning. We thought he was back to playing well, but if he wasn't at least the Devils still had Keith Kinkaid. That worked out as bad as possible. He missed most of October recovering from hip surgery, and when he came back he was not good. In November, he had a .864 save percentage.
Now, once again Schneider is talking about his worries about starting slow. After two straight seasons of starting slow, and ending the 2017-18 regular season terribly, confidence is a huge worry for Schneider and the Devils.
The Devils have options this offseason. Buying Cory Schneider out would only cost them $2 million a season for four years. It would save them $4 million for the next two seasons. It's not the most ideal situation, but it might be a necessary one.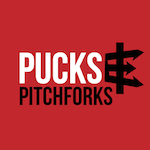 Want your voice heard? Join the Pucks And Pitchforks team!
Write for us!
The other option is to keep Schneider. He's making $6 million, doesn't have a lot of options, and is very willing to cover whatever role the Devils have for him. He went to the Binghamton Devils without question last season. Schneider welcomed Jack Hughes into his home as soon as he joined the team. He's taken on Mackenzie Blackwood despite the fact he took his job. There are options, but the Devils have a hard decision to make. Schneider's comments made it a lot harder.