New Jersey Devils: Rikard Grönborg Not Lost As Head Coaching Candidate
Recent reports that Rikard Grönborg won't get released from his contract shouldn't be the end of the New Jersey Devils' pursuit of him.
The New Jersey Devils are hot on the pursuit of any head coaching candidate that's willing to take an interview during a global pandemic. They've spoken to big names like Gerard Gallant and John Stevens, but we have to imagine there are dozens of others we haven't heard about. One name we just learned the Devils wanted to take to is Swedish coach Rikard Grönborg.
Grönborg jumped on the map after guiding the Swedish National Team to back to back World Championships. He spent years working his way up in the United States and even has dual citizenship after marrying an American woman. It wouldn't be as hard to get him here during these strange times thanks to that.
Well, it turns out it's not that easy. Grönborg signed a two-year deal with his current club, the ZSC Lions in Zürich, Switzerland. He was not given an NHL out to be able to talk to NHL clubs, despite his desire to one day become a coach in the best league in the world. That doesn't mean it was off the table, but it definitely made it harder.
As reported by multiple overseas reporters including Svenska YLE, and first shared by Devils Insiders after a tip from a fan, the Devils made a formal attempt to talk to Gronberg about their head coaching opening, but they were officially denied. The Lions have one year left on Gronberg's contract, and based on today's report it sounds like they intend on having him play it out.
This might sound like it should be the end for the Devils pursuit of Gronberg, but it doesn't have to be that way. If the Devils want to make an offer to the Swede, there are ways to make that happen. With so many teams losing money, the Devils might be willing to throw some cash around to finally get the right head coach.
In prior years, the Lions have been working at a revenue loss. In the 2017-18 season, the season cost owners $1.3 million according to Swiss Hockey News. (The article says it's in Swiss Franks, but the U.S. Dollar is close to 1-1 in exchange rates.) If they worked from a loss in a season they won the championship, how much could they have lost in a season where they lost all playoff revenue? The Devils lost money too, but the extra revenue we're expecting from the Seattle expansion should make them more willing to overspend on a head coach if he's the right fit.
The Lions are trying to keep Gronberg, but he's leaving after next season no matter what. Would they be willing to just skip the season for $5 million? What about $10 million? That might be a little rich for the Devils who still have to pay the coach, but we all know money talks. In college football, some coaches need eight-figure buyouts to leave from one school to another.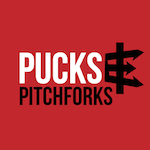 Want your voice heard? Join the Pucks And Pitchforks team!
Write for us!
If the Devils go to the Lions with a price, they'd listen. They still might say no, but we can't say that the race for Gronberg is over. The Devils may just go for the many head coaches that are available for free, since there are so many this year, but if Gronberg is their guy there is a possibility that he could still be the next head coach.