Is Yaroslav Askarov Worth The Gamble for the Devils
The New Jersey Devils season is officially over, and it is time for the team to start looking ahead to the off-season. This could be the most pivotal off-season in the history of the franchise as the Devils have big decisions to make with their front office, coaching staff, player personnel along with having a plethora of 1st-round draft picks.
This is the type of off-season that could see the Devils take a big step forward or two steps back in a rebuild that's already taken too long. The Devils have the advantage of having (presumably) three 1st-round picks at their disposal, so the team does have an opportunity to get frisky with one of those picks in a deep draft. Yaroslav Askarov is the type of draftee that will cause Devils fans to go in a frenzy. Fans will either love the pick or hate it, and it would be a hotly debated topic for years to come.
Anyone who has had the luxury of watching Yaroslav Askarov play, or have watched his highlights could tell you what an amazing talent he is. Whether it is Askarov's jaw-dropping saves with his silky right glove hand, or his smooth transition to make a save from one end of the crease to the other, he could flat out play and often dominate.
Askarov is oozing with potential, and if developed properly he could be a bonafide NHL goaltender. Scouts laud Askarov for many attributes, particularly his reflexes and hockey IQ. Many proclaim that he is the best goaltending prospect to come out in years, even saying that he is a generational prospect at his position. When you've been touted the best goaltending prospect for years, people will inevitably look to nitpick. Recency bias will suggest that he does not warrant being a high selection because he did not play well in the 2020 World Juniors Tournament. If you're willing to look at the big picture, playing poorly at the WJT was just a bump in the road. He has played great internationally and in the KHL.
Most fans would salivate having that type of goaltending prospect in their system. So what is the problem exactly? No fan wants their team to draft a goalie in the first round, especially when it could come at the expense of a top 10 pick. Drafting a goalie high is the NFL's equivalent of drafting a running back in the first round. You love the talent and the highlight reel moves but not at the expense of high draft capital. Goalies also come at a much higher risk of not panning out, and their development often takes longer than any other position in hockey. It is odd to see that one of the most important positions in hockey, and sports no less is the least invested in with high draft capital.
Should that mean that the Devils should not draft a goalie high? Recent history suggests that be the case, as only SIX goalies have been drafted in the first round since 2010. However, one of them is Andrei Vasilevskiy, the 2019 Vezina Trophy winner and another being Ilya Samsonov, a promising young goalie for the Washington Capitals. Jack Campbell and Mark Visentin are whiffs, while it will take a little longer to judge prospects Jake Oettinger (Dallas, 2017) and Spencer Knight (Florida, 2019) as they continue their development.
Drafting Martin Brodeur in the 1st round in 1990 hits close to home for Devils fans, and no one will ever debate whether he was worthy of a being a 1st-round selection. If anything, he wasn't drafted high enough. Remember, the Devils traded DOWN to draft him. As fate would have it, he was still available at pick 20 (all part of the plan, right Lou?). Besides Brodeur, Marc-Andre Fleury (1st overall) and Roberto Luongo (4th overall) were also drafted in the 1st round. The three combined have 1,646 wins and 6 Stanley Cups to their name and will be Hall of Famers.
On the flip side, goalies like Braden Holtby, Jonathan Quick, Henrik Lundqvist, and Pekka Rinne are all examples of non-1st-round goalies who have had success. These guys were all drafted in the 4th round or beyond, but you would never know it as they developed into winning goalies with accolades that include multiple Stanley Cups and Vezina Trophies.
Another inevitable reason why fans will say they should not draft a goalie high is that the Devils already have Makenzie Blackwood. He is one of the few reasons why the team had success after the All-Star break by standing on his head more often than not. There is no denying Blackwood's talent and individual success, however, his success has come in such a small sample size having played just 70 career games. In the event he does not develop with the upward trajectory many project, it would not hurt to have a successor.
The Devils need to have a forward-thinking approach, even if Blackwood is the real deal. The days of having one goaltender carry the load are long gone. Teams want to keep their goalies fresh, and the way schedules are constructed with so many back to backs or three games in four nights, it makes sense to roster two capable goalies. More teams think along the line of a 1A/1B approach to goaltending. If Blackwood's solid play is sustainable, and Askarov develops into a good NHL goalie the team could be looking at a formidable duo for years. If Blackwood hits unrestricted free agency and the Devils decide that they don't want to pay him big money, they have a guy who is more than capable of leading the way in Askarov.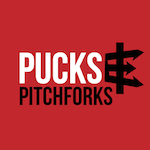 Want your voice heard? Join the Pucks And Pitchforks team!
Write for us!
Is it worth the risk for the Devils to draft a Yaroslav Askarov? If there was ever a time to be bold, this is the time to do it. Would it even be that bold, being that he is a big-time prospect? The Devils could afford to take that chance with their 1st-round draft capital. Regardless, The Devils need to draft the best available player, regardless of position. Drafting a goalie may not be 'sexy,' and waiting for the payoff could be tedious, but it's all about the end game. If there is a good return on the initial investment, then it is a win. The Devils off-season is about to get interesting, and drafting Askarov would be a heated debate for years to come.