New Jersey Devils: Please Don't Draft Jake Sanderson In Top Ten
Jake Sanderson isn't the player we want for the New Jersey Devils.
The New Jersey Devils learned Friday night that they will be drafting 7th with their personal pick in the NHL Entry Draft. The NHL Draft Lottery was not as kind to them as it was the last two times. They won twice in a row to get the rights to Nico Hischier and Jack Hughes. Those are two incredibly potent players to have when they are barely adults. Now, they get another top-ten pick in a very good draft.
Our issue with the seventh pick is who some people are talking about taking with the pick. Lucas Raymond? Yes, please. He's our top pick if available. Jamie Drysdale? We don't think he'd be available, but we'd be very happy if he were. Alexander Holtz would be a nice pick as well. Even Cole Perfetti would be an acceptable pick, but he's the fourth on the list we just provided.
The one player we don't want the Devils to take here is Jake Sanderson. Sanderson is a decent defenseman who is the second player at his position taken on almost every single mock draft. It makes sense why, as he has NHL-ready skills already. When looking at him, he doesn't make a lot of mistakes and he keeps the other team in check.
Sanderson currently plays for the U.S. National Team, where he served as captain. It's great that he took over a leadership role for a team that lost a lot of its top talent last season (Hughes, Cole Caufield, Spencer Knight, and Matthew Boldy among them). We love that he was able to take on that role successfully.
Our issue with Sanderson is he just seems average or above average across the board. When looking at every one of his stats, he's a 5 to 7 in every single category. There's something to be said about that kind of consistency, but it feels like something the Devils could get in the middle of the 1st round, or even the 2nd round if they traded back.
Sanderson's skating is by far his best quality. He can really skate up the ice with the puck. However, how is that going to look against much better competition? Honestly, we wish we saw his first year at the University of North Dakota before he was draft eligible. Sanderson needs to prove his skating is still very good when the competition takes it up a notch. Still, we will give him credit where it's due. He is a smooth skater.
Sanderson is always playing with low risk, which sounds good for a defenseman. However, if a player is playing without risk, could he ever be your best player at the position? If he's waiting for the perfect pass, those don't show up in the NHL like they do in junior leagues. Sanderson won't be able to wait in the NHL. There are times he just has to make a decision, and that's what scares us most about him. What is he going to do when he loses all the time he had in other leagues?
The good thing about Sanderson is he will almost certainly make the NHL. He has the talent and his bust potential is low when thinking overall. However, if he's taken at seven overall, now his expectations are much higher. Even if he's taken at ten overall his expectations are much higher.
Personally, we have Kaiden Guile as a better prospect overall at the defensive position. We like the upside of players like Braden Schneider better, although his floor is much lower. We can say the same thing for William Wallinder, Justin Barron, and Jérémie Poirier, however to be fair their floor is in the basement compared to Sanderson. We're not saying we'd take these players before Sanderson (although we would absolutely take Guile before him), we're just saying there are arguments that their careers will end up better than Sanderson's.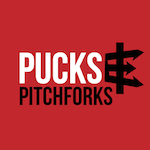 Want your voice heard? Join the Pucks And Pitchforks team!
Write for us!
We're not saying we don't want Sanderson at all, we would be ecstatic if the Devils got him with the potential 17th overall pick. However, taking him in the top ten with the sheer talent in this year's draft is just a mistake.