New Jersey Devils: Flat Salary Cap Helps Team Make Special Moves
The New Jersey Devils got good news that the salary cap will stay flat.
The New Jersey Devils are far away from doing anything of note with the roster. Teams and the players are negotiating a new CBA to go along with a return-to-play format, and it sounds like they finally got an agreement in place. Sportsnet's Elliotte Friedman is reporting some of the facts of the proposed deal:
-A flat salary cap for 2020-21 of $81.5 million.
-Escrow caps from now until the end of the collective bargaining agreement.
-Olympics are guaranteed pending an agreement with the International Olympic Committee.
-No-move and No-trade clauses move from team to team.
-Caps on year-to-year variance of salaries.
Those are just some of the major changes, the only ones that really impact the New Jersey Devils. There are some, like players being able to opt out of the return-to-play format and no more conditional picks based on a player re-signing (which doesn't impact previous moves, so the conditions on the Taylor Hall trade still remain).
This CBA is very good for the Devils in the short term. In the long term, they are still in a favorable position. If you thought the Devils were able to get a player like P.K. Subban in a good deal, just wait until you see the trades happening this season.
The flat salary cap is really going to hurt some teams. The Arizona Coyotes only have around $1.5 million in cap space next season. Meanwhile, the St. Louis Blues will try to remain a championship contender with just $2.5-ish million in space. Both Tampa Bay and Toronto are dealing with around $5 million, but they have some spots to fill. There are teams that will need to to make moves if they want to fix their cap situation.
The Devils as they currently stand have the fourth most salary cap space next season. The Buffalo Sabres, Ottawa Senators, and Detroit Red Wings are the only teams behind them. When looking at those three teams, only the Sabres are going to try to make "winning" moves this offseason. The Red Wings and Senators still have at least another year in the rebuild. The Devils and Sabres are sadly probably in the same place in their respective rebuilds.
There's a problem with the Sabres. They need to make a lot of moves this offseason to fill the roster. They have $47 million tied to its players next season, but their roster only has ten NHL players under contract next season. Sure, maybe Dylan Cozens and Casey Middlestadt make the jump to the NHL next season, but that's still leaving them at 12. The Devils currently have 13 signed next season, and that doesn't include Jesper Bratt and Mackenzie Blackwood (both RFAs) and Ty Smith, Jesper Boqvist, and Joey Anderson (likely prospects making the roster). Clearly, the Sabres have a lot more moves to make, and that could lead to desperation.
The Devils have the ability to get creative with their moves. They have a lot of intriguing prospects, which other teams love to take chances on. Then, they have the cap space to take on possible overpaid players. Or, they could take highly-paid players who are still worth what they are getting, but just don't fit in the mission of the team.
Either way, the Devils might be in the most enviable position. They have to make some moves because wasting Jack Hughes' entry-level contract like they did with Nico Hischier's is a major mistake. We're not saying the Devils should make those quintessential "win-now" moves. However, they could absolutely make moves that put them in a position to compete for the playoffs next season if things go right.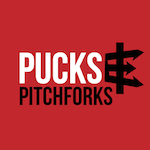 Want your voice heard? Join the Pucks And Pitchforks team!
Write for us!
The salary cap helps the Devils immensely while hurting some teams for years to come. It's not just that the cap is flat for this year, but it's flat for multiple years. The pandemic is going to have a ripple effect, and the Devils have another $20 million coming off the books in 2021 (although that's mostly Travis Zajac, Nikita Gusev, and Kyle Palmieri who we hope they retain). There is a position here that the Devils can make teams squirm. That will lead to some incredible deals.