New Jersey Devils: Addressing Jake Sanderson One Last Time
We're still not convinced Jake Sanderson is the right player for the New Jersey Devils.
There are biases when you run one of these team-centric blogs. It's just the reality of the job, and there are times where you will double down on something when you are proven wrong. That's the thing about sports, before things actually happen, everything is just opinion or speculation. Think Jack Hughes is going to score 150 points for the New Jersey Devils next season? I can tell you that's unlikely, but we can't say with 100 percent certainty it won't happen. So, take this next Jake Sanderson opinion as just that, one opinion against a myriad of others.
What drew myself to write about this once more is I've been diving deep into Jake Sanderson as of late. What was I missing when I watched him on the ice? His skating is smooth, we've never denied that, but people now have him as one of the top five players in a ridiculous draft. Jamie Drysdale might actually fall out of the top ten somehow because a team could tall in love with Sanderson.
During this deep dive, we came across Tony Ferrari at Dobber Prospects. He did his own deep dive on Jake Sanderson with a much more positive outlook. We see a lot of his points, but there are a couple that we can't get past. One particular is something he's looking at like a positive, but we see actually hurting him at the next level.
During his analysis, he points out that Sanderson is someone who will take contact in the neutral zone and skate through the defender, continuing his movement towards the offensive zone. This is great against college kids or other teams int he USHL, but this will not work in the NHL. Getting hit in the NHL is going to knock you off the puck or worse. The players are too fast. He's not going to be able to skate through checks along the boards. Connor McDavid can't do that in the neutral zone with consistency.
A lot of people might like a defender that isn't afraid to get physical, but the issue with Sanderson is a lot of the contact we're seeing are when he has the puck. That's not when you want your defenseman to make that kind of contact.
He can absolutely change that style in the NHL, and his great zone-exit rate is something to behold. Still, getting out of the zone involves getting the puck on your stick in the first place. He stops on a dime and cuts off passes with ease. Obviously, this is a confidence attribute, meaning he believes in his ability so much that he can make a move that's a high risk, but high reward. That works well when you continue to have that confidence, but how will he react the first time that leaves his defensive partner on a two on one in the NHL? Will his aggressiveness, his best defensive attribute, change?
To be fair to Sanderson, we would absolutely rather have a player that's got those skills than one who doesn't, but our prevalent point throughout this process was we're worried about how what Sanderson does best would translate to the next level. He looks great at what he's doing now, but does that mean he can do it in the NHL? It's fair to ask those questions of draft picks, but it is scary to take someone with those questions at seven overall.
His zone entries and zone exits are a trait we think are definitely worth going after. That's something that is important in today's NHL. That's also something we don't question with Sanderson. He's very good at that, and the Devils could use someone who could do it with consistency. However, that's all we're actually confident in when it comes to Sanderson. His defense was great at his level, but the transition to the big leagues comes with some worries. Also, some of his tendencies could lead to turnovers in the NHL when they didn't where he played last season. How will that impact him mentally? A defender has to have his head on right. It's just speculation, and maybe that's not fair to already go there with a teenager who's not making the NHL for a while.
That's the final point we will make. We see Sanderson spending at least two years at the University of North Dakota, that is if they have a season this year. He just needs a little more seasoning, and he needs to elevate the parts of his game that make him great. The Devils should absolutely draft for the future, but there are other players in this year's draft that can contribute as early as this season, and then elevate their game to being a top-line forward.
His physicality isn't something we see translating unless it changes in intensity. He needs to really put some umph into those hits. Right now, he's basically just running into the other team. There's a place for that on the lower levels, but NHL players can easily avoid that, especially when you're supposed to be in a lock-down role.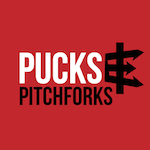 Want your voice heard? Join the Pucks And Pitchforks team!
Write for us!
Having good positioning will help, and admittedly that's one of the hardest traits to teach a defenseman. Still, he relies on his ability to break out. Young players often sit back on their best trait, but when it's breaking out of the zone and this is a top-five theoretical defenseman were talking about, we desire more.
Sanderson could very well become the best defenseman in this class. It's definitely possible. However, this is a weak class overall, and we could see a name like William Wallinder or Jeremie Poirier become the best defenseman too. It's a strange year for draft defensemen and taking one that's rocketed up draft boards in years like this gives us heart palpitations.