Assessing Travis Zajac's New Jersey Devils' Future
For the New Jersey Devils, veteran center Travis Zajac provides a glimpse into the organization's storied past. Currently, the team's most tenured player, Zajac completed his 14th season in New Jersey. He played on the Devils during their glorified years as a regular playoff contender, was part of their remarkable 2012 playoff run (scoring the critical overtime winner in game six against the Florida Panthers), and has been a fixture as one of the team's most reliable centers.
Travis Zajac getting up there in age (he turned 35 in May). Now, he's slated to become an unrestricted free agent in 2021, and the Devils are going down the road of yet another rebuild. His future in the Garden State looks murky.
At face value, Zajac is the Devil's best faceoff man, brandishing a 53.5 percent career average. He's routinely led New Jersey Devils in face-off percentage—a category the team has consistently struggled in for years—is an adept penalty killer, plays a sound defensive game, and (when with the right players) can contribute offensively. Although Zajac is better suited for a second or third-line role, the New Jersey Devils never acquired an adequate established top-tier center since he broke into the league (until recently), making him a mainstay on the team's top-two lines.
Even this year, despite the rookie debut of former first-overall pick Jack Hughes, Zajac spent most of this season as the team's No. 2 center. As previously mentioned, however, Zajac is set to become an unrestricted free agent in the summer of 2021 and will be 36-years old. With Nico Hischier nestling nicely as the Devil's No. 1 center and Hughes hopefully continuing his acclimation to the NHL, Zajac's long-lasting run as a top-two center in New Jersey appears to be ending.
Although Zajac is a very important player on the New Jersey Devils, his advancing age along with the team appearing to be headed into another rebuild-type phase don't seem to align. While he indicated his desire to stay with the organization after reportedly rejecting a trade this winter, Travis Zajac isn't part of New Jersey's long-term plans, especially with a slew of young centers in the organization's system.
Up-and-comers like Pavel Zacha, Michael McLeod, Brett Seney, Fabian Zetterlund, along with whoever the New Jersey Devils potentially select in the first round of this year's draft can vie for the team's No. 3 center spot over the next 1-2 years, and are capable of becoming long-term assets for the organization (contingent on their development). Even if Zajac winds up remaining in New Jersey through next season, it wouldn't make sense for him to sign an extension with the team next summer, especially when you take the aforementioned list of young ripening centers New Jersey has in the pipeline into consideration.
Zajac is still an effective player that could serve as a resourceful mentor to the roster's younger forwards in 2020-2021, however, he's entering the twilight of his career and should spend those years pursuing a Stanley Cup championship. The New Jersey Devils are about 2-3 years away from becoming serious contenders again and must focus on establishing a young foundation to build around moving forward. Veteran forwards Kyle Palmieri and Nikita Gusev will also be UFAs next summer, both of whom are younger than Zajac, can fit in the Devil's long-term plans, and are more sensible options for allocating cap space to (should they sign extensions with the team).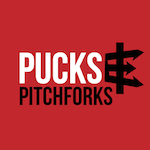 Want your voice heard? Join the Pucks And Pitchforks team!
Write for us!
Travis Zajac has become a household name among New Jersey Devils fans, who's spent his entire NHL career in the Garden State. If the Devils have another losing season in 2020-2021, he'll make for an attractive rental at next year's trade deadline (assuming he isn't dealt this offseason). Although he very well may remain in Jersey through next season, Zajac's future with the Devils could be nearing its end. Zajac is approaching his final years in the NHL and owes it to himself to spend those years pursuing a championship, while the New Jersey Devils use that time to right their ailing ship.