New Jersey Devils: Johnny Gaudreau Rumors Running Wild
Could the New Jersey Devils actually go after Johnny Hockey?
The Calgary Flames were dispatched pretty easily by the Dallas Stars on Thursday night. Starting goalie Ben Bishop was knocked out, but Anton Khudobin was able to lead the Texas team to the second round. This has many saying it's time to sell the stars of the Flames to the highest bidder. This is what happens when a team blows a three-goal lead in an elimination game.
Our Steve Palumbo was listening to Sirius XM Radio, where Sportsnet senior columnist Eric Francis was talking about the Flames moves they need to make to get better. His number one priority would be to get Johnny Gaudreau off the Flames. There are rumors he would like to go "home".
Well, home is New Jersey if memory serves us right. However, it's pretty well known that Gaudreau grew up as a Philadelphia Flyers fan. However, it usually doesn't work out when a player demands a trade to one team (Adam Fox notwithstanding). There need to be options, so if Gaudreau is looking to come close to home, the New Jersey Devils might be his best option.
Philly has some money to spend, but not a ton. Then, after next season they have to pay Carter Hart, so they might not want to spend assets on someone who is taking up $6.75 million, even someone as talented as Gaudreau.
Gaudreau was born in Salem, NJ. He spent time in Oldsmar and Glouchester Township growing up. He moved around South Jersey. Then, during high school, he went to Iowa to play hockey. It clearly worked out, but as someone who's had a job take them away from the Garden State, it pulls you back in. Even if he's claiming Philadelphia, it's still New Jersey.
Devils fans are getting excited about a possible trade for Gaudreau. He might be coming off a bad season, but he had 99 points last season. We talk about players who are two or three seasons from their career highs. Gaudreau hit those highs one year ago. NHL seasons go through ebbs and flows, as do star players.
The push to get Gaudreau out will eventually fade as the playoffs continue. The Flames went through a tumultuous season which included a head coach who was ousted for racist comment allegations. T.J. Brodie collapsed on the ice in a practice. This was all before they had to deal with a pandemic. It's a lot of stress that most players don't have to deal with in a normal season. pu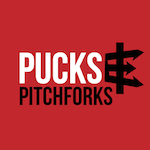 Want your voice heard? Join the Pucks And Pitchforks team!
Write for us!
The Devils would be smart to get Gaudreau while his value is low. If home is where his heart is, even better. This article from 2016 from Jane Gaudreau, Johnny's mother, shows how close the family is. It might be good for him personally after the entire organization went through a tough year. If the Flames want to get rid of one of their stars after another first-round exit, the Devils should at least see if they have the right assets to make the deal work.