New Jersey Devils: Lou Lamoriello Was Always Better Off Leaving
Devils legend Lou Lamoriello won his first award away from the franchise.
New York Islanders general manager Lou Lamoriello came in at a time that the team was set to go through a transition. Captain and superstar John Tavares was set to leave through free agency, and he did just that signing with the Toronto Maple Leafs. Lamoriello changed the way the Islanders operated, and he got a little lucky, too. A contract dispute between Barry Trotz and the World Champion Washington Capitals led to one of the best coaches in the league signing a massive deal with the Islanders. The former New Jersey Devils GM was now making money moves for a division rival.
This is obviously going to make some Devils fans have envy for the fans on the Island. This will hit a fever pitch now that Lamoriello just won General Manager of the Year. This is going to have Devils fans wondering "what if", especially since the GM they chose to draft him is now unemployed.
Devils fans should absolutely be happy for Lamoriello. He turned the Devils into a powerhouse for two of his three decades. There was no better general manager at the game of hockey when he was at his peak. He got star players to take deals that were less than market value. He made trades that won the Devils championships. He drafted superstar after superstar. Lamoriello built this team basically from scratch into a three-time Stanley Cup Champion.
Now, he has the Islanders in the Eastern Conference Finals, even after their superstar left for "greener" pastures. Lamoriello was a deserving candidate for the GM of the Year Award. The moves he made for the Islanders just worked.
Here's the thing; none of those moves would have worked for the Devils. Honestly, a lot of the moves Lamoriello made seem to work in spite of hockey logic. He picked Semyon Varlamov over a younger, and frankly better Robin Lehner. He signed Matt Martin and Leo Komarov to multi-year deals. The Islanders then traded a 2020 1st-round pick, a 2020 2nd round pick, and a 2022 3rd-round pick for Jean-Gabriel Pageau. He's a good player, but that is a massive haul for the Ottawa Senators.
The Islanders are absolutely in win-now mode, and it's working. Lamoriello was working the Devils like they were also in win-now mode. The problem was, they weren't by the time his tenure was coming to an end. Once Ilya Kovalchuk and Zach Parise left the franchise high and dry, the Devils should have gone for a rebuild. Instead, they traded a 9th-overall pick for a goalie, signed Ryane Clowe, Michael Cammalleri, and Jordin Tootoo, and traded for Tuomo Ruutu. This wasn't a team that needed win-now moves, this was a team that needed to start over.
Lamoriello left the Devils in July of 2015 after the team already hired for Pittsburgh Penguins GM Ray Shero. It was clear something was up, and the Devils spent a few months with two people in charge.
When Lamoriello left, Steve Santini and Pavel Zacha (who was literally just drafted) were the best prospects in the organization. Their prospect pool ranked dead last in the league. Reid Boucher and Damon Severson were the best young players on the NHL squad. Adam Henrique and Kyle Palmieri were the best players on the team outside of Cory Schneider. It was a roster that needed Sergey Kalinin for 78 games.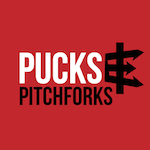 Want your voice heard? Join the Pucks And Pitchforks team!
Write for us!
Sometimes people need to move on. Lamoriello was becoming a shell of himself with the Devils, and he needed a new challenge. It was appearing as if the league had passed him by, and if the Devils just allowed him to continue to keep them in win-now mode, then they'd be going in circles. The Devils were just ranked by The Athletic's Corey Pronman as the second-best young organization in the league. Back in 2015, Pronman had two Devils in the top 100. We're happy for Lamoriello and his success in New York, but we're not upset he left for a new role with a new franchise.