New Jersey Devils: Does A Taylor Hall Return Make Sense?
Former New Jersey Devils' player and Hart Trophy winner Taylor Hall will be garnering a lot of attention when he most likely hits free agency in the next few weeks. The Arizona Coyotes have no cap space going forward to offer him a long-term deal without moving some serious pieces out, and Clayton Keller is set to move off his entry level deal to making $7.1 million for the next six years. Even if they want to sign him, it will be a huge task cap wise made even harder by the the fact that the number will not be increasing this year and the future is uncertain at best.
It will still be up to Hall where he goes, and he has made it very clear the last few years he wants to win and he wants to win now. After six years with the Edmonton Oilers where he missed the playoffs every year, it makes sense he's desperate to find a winning situation.
Working your whole life towards one goal, winning the Stanley Cup, while coming up so short that your season was virtually done in December year after year would be soul crushing. He did all he could to carry those teams on his back with Ryan Nugent-Hopkins and Jordan Eberle, but after the 2015-16 season they decided to take it another direction trading Hall to the New Jersey Devils for defensemen Adam Larsson.
In a trade most Devils fans were ecstatic about, the high-end winger gave New Jersey its first star player since the loss of Ilya Kovalchuk. His first season after the trade didn't go the best. While not terrible, it was not up to the standard one would expect from a first-overall pick going into their prime with a 53-point season and only 20 goals. It looked like he didn't want to be in New Jersey and his comments on interviews here in Edmonton really reinforced he felt at least a little betrayed by the Oilers.
That offseason, former GM Ray Shero sat him down and with a heart to heart got Hall on board with the Devils and it showed. He was a whole new player in 2017-18, winning the Hart Trophy putting up 93 points and scoring 39 goals, both career highs. What made this season special though was for the first time he backchecked harder, threw a few hits and wasn't shying away from the rough play as much as before. He was a man on a mission and dragged the team into the playoffs with help from solid goaltending. This version of Hall was completely deserving of the Hart Trophy and a player who if this continued would be up for it again. Unfortunately this was not the case.
The next season, Hall didn't look the same and his play reminded me of watching him in Edmonton and the first season the Devils traded for him, it just wasn't the same as the year before. He was more prone to defensive lapses and quitting on the play again in the defensive zone. The bad passes near the offensive blueline that cause opposing breakaways or two on ones were back in his game more often and he was hurting an already bad team defensively almost as much as he was helping us put up points. Even with a good offensive game players all need to do their own part on both ends of the ice. His season was also cut short with a leg injury limiting him to 33 games in which he put up an offensively respectable 37 points.
This season he was hit by a bit of bad luck shooting at 5.5% with the Devils to put up only 6 goals in 30 games. It looks bad and definitely was hurting his value when shopped in the middle of the season, but had he shot closer to his career percentage of 10.4% he would have been pacing towards a 32-goal season instead of a 16-goal season. Things got a little better for him after joining the Arizona Coyotes goal wise, but his point totals remained consistent.
Putting up points for Hall has never really been an issue and will be what him and his agent bring up when looking for a new contract, but its not the part of his game that makes him a bad fit. His skating looked a little bit worse coming back from his injury and that is the main way he generates his offense. At the age of 28, he is nearing his decline and it may hit him earlier than some others thanks to the lower body injuries. Signing a player who is all about speed that could lose some of it and possibly some of the lower body strength needed to keep players off the puck will be a disaster for whoever bites on a long-term deal.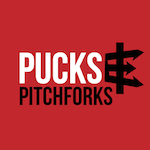 Want your voice heard? Join the Pucks And Pitchforks team!
Write for us!
The talk before the season was will Hall need 10 million or more to stay? Will he want Mitch Marner money? These options sound insane and whatever team offers him the big deal should not be the Devils. While the Devils can't bet on their own players becoming the big point producers this year, they have a lot of talent coming up who will be ready when he hits the wrong side of 30 so having big money locked up on a declining forward would make little sense. Odds are we will not be good now and Hall wants to and will go to a contender. We wish him the best in his future endeavors wherever he chooses to go.