New Jersey Devils Likely Finished Adding Defensemen For Now
The New Jersey Devils defense still has holes, but it looks like a much better unit.
Last season, the New Jersey Devils started the season with a defensive lineup that looked like this:
Andy Greene – P.K. Subban
Will Butcher – Sami Vatanen
Mirco Mueller – Damon Severson
Those lines look wildly different from what the Devils are looking at now. Obviously, Ty Smith's rough preseason that forced Ray Shero to send him back to juniors changed plans a bit. It's still very strange the Devils thought the best use of their assets was to put Damon Severson on the bottom line with Mirco Mueller.
Mueller was not qualified this offseason, making him a free agent for anyone to sign. He's currently playing overseas. Vatanen was traded at the trade deadline, and he is also still a free agent. Greene was traded to the New York Islanders. While it appears Lou Lamoriello has plans to bring him back, technically Greene is also a free agent. That left the Devils with three holes to fill.
This offseason, new general manager Tom Fitzgerald made major changes to the defense despite the moves being subtle. The two major changes he made was to trade for Ryan Murray and sign Dmitri Kulikov. These weren't blockbuster moves, but look at the difference it's making from the Devils defense we saw on the night before the pause:
03/10/20
Mirco Mueller – P.K. Subban
Dakota Mermis – Damon Severson
Matt Tennyson – Connor Carrick
Today:
Murray – Subban
Butcher – Severson
Smith – Kulikov
It's a wildly different defense, and one that can at least be competitive. The Devils biggest flaw is still their defense, especially with Corey Crawford coming in and solidifying the backup goalie position. All three lines are average at best when compared to other 1st, 2nd, and 3rd lines around the league. Nothing really stands out, and if anything it's below average. However, the lines put out on March 10th might have been the worst defensive unit in the NHL.
Looking at this team, it just seems unlikely at this point that Tom Fitzgerald would keep adding defensemen. The free agency market has dried up pretty significantly. Besides the aforementioned former Devils, the only intriguing defensemen on the market are Travis Hamonic and Zdeno Chara, neither of which are fits for this Devils team.
If anything, Fitzgerald would add one of the many remaining forwards on the market. It would give him a nice veteran presence for what's going to be a young lineup, and it gives him trade bait if they play well with Jack Hughes or Nico Hischier.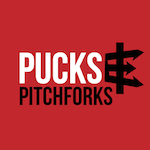 Want your voice heard? Join the Pucks And Pitchforks team!
Write for us!
There's still the faint possibility Fitzgerald makes a trade before this year's season starts (whenever that actually is). It's very faint, however, and it has to be a deal that likely falls into his lap. After taking a flier on Murray, the Devils are running out of room if they want to give Smith or possibly Kevin Bahl a chance to make this roster.
The biggest issue with the Devils defense right now is depth. If someone gets injury, which Murray has been prone to do in his career, then the answer appears to be Carrick. He's fine, but this year there isn't anyone to take Murray's place on the top line. Butcher would have to show amazing growth for him to be worthy of that spot.
The Devils defense is basically done. It's an interesting unit with serious flaws and a lack of depth. Reilly Walsh, Tennyson, and Colton White should all be in the AHL for an emergency call up. Hopefully, that would be a last resort.