New Jersey Devils Gain a Captain, Lose A Game To Buffalo Sabres
Starting the day with some unexpected and fantastic news, the New Jersey Devils named a new captain in Nico Hischier. Hischier has shown a lot of leadership over the years and most fans were expecting him to one day wear the C, but a choice being made in the middle of a shortened season was surprising.
Saturday's game versus the Buffalo Sabres was an early start, and unfortunately, the Devils did not get the memo as they only showed up in the third period. It is tough to lose any game in a short season. So this one stings and could be an issue moving forward seeing as how the Devils' have struggled mightily against a lowly Sabres team.
The Good
Jack Hughes and Kyle Palmieri were in sync for Saturday's game. After breaking his goal drought, Palmieri put up another one in this game to break the Devils' goalless drought. With 5 shots today and his confidence back expect Palmieri to get back on pace for a good season. Beside him, Jack Hughes was all over the ice and the way he slides around players and his tenacity on the puck are making him a force in this league. His willingness to shoot this year and this game are absolutely game-changing as players can no longer just play for the pass when he has the puck. His shot late that was blocked was the right choice and his retrieval on the play led directly to P.K. Subban lighting the lamp and giving us a shot at a win.
The Bad
Everything about the first two periods where really only Hughes and Palmieri showing up ready to play today. Overall it was incredibly sloppy with missed passes and the shifts where anyone had their legs moving were few and far between.
Nico Hischier struggled in his first game back. While it hurts to put the captain in this spot in his first game back, he was not ready to play. With numerous giveaways and plays that looked like he was out of gas and unable to back check it might have been too soon to bring him back. We all know he is a heart and soul gamer on the ice however so hopefully, he can get to game speed sooner rather than later.
Blackwood looked human for the first time this season and let in a couple of rough goals from the point. These saves need to be made nearly all the time, but this was still a winnable game and no one can be perfect all the time.
The powerplay continues to disappoint going 1/3 tonight thanks to Subban's late goal with only a few minutes left, but the first two chances were dreadful. The powerplay again got nothing set up, no chances, and killed the entire team's momentum. Even a good shift that doesn't put one in could have turned the game around early. Instead, it was an anchor dragging the team down again.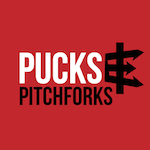 Want your voice heard? Join the Pucks And Pitchforks team!
Write for us!
On the penalty kill side of things, it took the Devils under a minute to allow a goal and have a ridiculous defensive breakdown again. Vatanen and Subban both were watching the puck on Eichel's stick and hovering near Hall while Reinhart had the front of the net to himself. This left Bastion in the spot of being unsure if he should be in the right spot for his position or cover low and leave a good third of the zone open for a slot shot. This is on the coaching staff at this point and unfortunately, the Devils don't really have time to practice in the schedule that is ahead of them but a quick word about not leaving guys standing in front of your goalie should be easy enough.