New Jersey Devils: Kyle Palmieri's Value Still Seems To Be High
The New Jersey Devils are in a rough spot. Not only has this season gone off the rails, but their many veterans facing unrestricted free agency at the end of the season haven't stepped up. Of all the players over the age of 26, P.K. Subban leads in points, and nobody is taking on his $9 million contract. After him, Kyle Palmieri is next in line with 12 points. Looking down the list, both Nikita Gusev and Travis Zajac have failed to reach double-digit points, despite looking to cash in this offseason.
However, despite the Devils struggles, it seems the league still holds the players on the team in high value. Palmieri is especially looked at as a player who can really help a contender. Teams like the Toronto Maple Leafs and Boston Bruins have been tied to the sniping right winger.
Elliotte Friedman in 31 Thoughts says that the Devils are talking to Palmieri now to see if they are close to an extension. If not, the Devils are going to look to trade him. It wasn't in those exact words, but that has been the tone around the league.
Palmieri is a player that many fans are giving up on, but his lack of production this season might be a blessing in disguise. If they decide to bring him back, he would be a really good scorer in a team's middle six. As long as the Devils are paying him like that, then all will be good. If his contract starts to go north of $5 million, the Devils will likely look to cash out, especially after his lackluster production this season.
The "worth" question surrounding Palmieri still has no answer. Could he go for a 1st-round pick? It's definitely possible. The Devils were reportedly asking for two 1sts in the offseason for him, but his value can't be the same at this point. Could he come with a really good prospect? Sami Vatanen got the Devils a draft pick and Janne Kuokkanen. The Palmieri deal sounds like it should be slightly better than that.
Tom Fitzgerald is going to shoot for the moon. He's hit it in the past with his trades. The value he got for Vatanen, Blake Coleman, and Andy Greene last trade deadline was great. We are in a different world during the pandemic. Canadian teams still have to put traded players through a two-week quarantine. Teams are losing a ton of money with a lack of ticket revenue.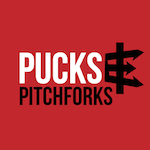 Want your voice heard? Join the Pucks And Pitchforks team!
Write for us!
Still, there are teams that are looking for scoring, and with Palmieri's salary and the Devils ability to cover some of it, just about every contending team will be in the race. That will cause a bidding war, and the Devils could look at a significant return for Palmieri if they decide moving him is in their best interest moving forward.