New Jersey Devils Trade Deadline Preview: Toronto Maple Leafs
The New Jersey Devils are going to be major sellers at the NHL Trade Deadline. We'll go through most of the contenders that can make a deal with the Devils work, like today's example the Toronto Maple Leafs.
Just a few weeks ago, we talked about how the New Jersey Devils should contact the Toronto Maple Leafs about a possible Damon Severson trade. It makes a lot of sense. The Devils severely need to get young talent, and the Maple Leafs have a lot of young talent in the NHL, so they don't have room for the prospects to make the NHL squad. However, Severson isn't the only Devils player the Leafs may be interested in.
With the Maple Leafs, the salary cap is going to be the biggest obstacle for these two teams. This year, they have around $2 million after at the long-term injured reserves and weird cap things Kyle Dubas does to make room.
The Leafs also just made a trade that adds some salary, bringing in Jack Campbell and Kyle Clifford. Campbell is a player that once played for Dubas in Juniors, so it makes sense for them to be together again.
This Leafs team is desperate to make a run. They've spent all the money in the world on this hockey team, and they are very, very talent, but that hasn't turned into playoff wins. This season, it's not even turning into regular season wins. As of February 6th, the Leafs are two points behind the Philadelphia Flyers for the last Wild Card spot in the NHL Playoffs. They also have to jump the Carolina Hurricanes, who are an extremely talented team who's losing in their own right.
They will likely stand pat until closer to the deadline, so whatever move they might make with the Devils would likely wait until the deadline. However, the news that they are losing Cody Ceci for a few weeks has to make them desperate for help.
Ceci isn't exactly a top-line defenseman, but when you're already down Morgan Rielly it really hurts to lose yet another defenseman. They could really use some reinforcements.
We know the Severson deal already, although the fact they haven't called on him to come in and play right away tells us that maybe Timothy Liljegren can be had. If he was as good as projected, he'd be the player coming in and playing when the Leafs need someone. Instead, they are looking for NHL talent.
In fact, we think the Devils can get even more than Timothy Liljegren. Liljegren is having a career year with the AHL Toronto Marlies. He's sixth in the league in defenseman scoring, and his skills have increased in almost every area this season.
So, what if we're wrong. If the Maple Leafs aren't willing to give up Liljegren, then Severson is probably off the table. We're not really interested in turning Severson into Kasperi Kapanen or Andreas Johnson. We're not really interested in Alexander Kerfoot after he already made it clear the Devils aren't a long-term play for him.
This means the Devils and Maple Leafs might want to move on to other options. If the Leafs want a veteran to take Ceci's place, then look no further than Andy Greene.
Greene is a solid defenseman who once again is playing in a position he shouldn't be on the Devils. Greene should not be on the top line, and he's not a good fit for P.K. Subban. So, if he could go to a team where he can play 15 minutes a night, he would look really good.
In fact, Greene might waive his no-trade clause because he knows if he can make a playoff push with the Leafs, then he can actually earn another year in the NHL. Someone might be willing to pay Greene $2 million for next season if he does well in the postseason.
Greene won't cost a ton. Think the Ben Lovejoy trade from last season. The Leafs don't have a 3rd-round pick, so the Devils would have to settle for a 4th rounder and a flyer NHL guy. Frédérik Gauthier is an interesting name. He's a 24-year-old center who's been a healthy scratch at times this season. He does have six goals in 48 games, so he's played most games. The Leafs probably aren't terribly happy with his production.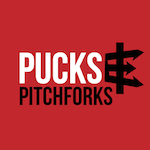 Want your voice heard? Join the Pucks And Pitchforks team!
Write for us!
If the Leafs couldn't afford Severson, they also couldn't afford Vatanen. They don't have a 1st-round pick, and they surely aren't giving up Liljegren for a rental.
Still, the most likely deal feels like Severson and Liljegren. Severson gives the Leafs multiple years of a prime defenseman who is cost controlled through 2023. Liljegren looks like a third-pairing defenseman right now, but has first-pairing upside. The Devils would ask for a little something more, because they are giving up the known asset here, and something seems off with Liljegren. Dubas would be willing to give up one of his three 6th-round picks.


Maple Leafs Get
Timothy Liljegren
6th-round pick
That's the deal we're sticking with, and while both seems will be reluctant at first, we feel like everyone finds happiness when it's all said and done.